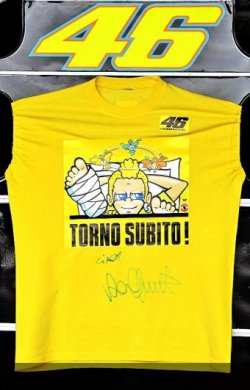 The World Champion has donated the signed t-shirt displayed in the Fiat Yamaha box at Silverstone with the message "Torno Subito" (I'll be back soon) to Riders for Health for auction.

For the first time in 14 years Valentino Rossi took no part at all in a Grand Prix at Silverstone last weekend, but the injured 31 year-old was present in spirit as his Fiat Yamaha team garage displayed a signed t-shirt from the World Champion bearing the message "Torno Subito" (I'll be back soon).


Along with his two Yamaha M1 prototypes, Rossi's t-shirt ensured there was a typically light-hearted reminder in place and the recovering rider has now made a sincere gesture to Riders for Health, the official charity of MotoGP.

The t-shirt, which has a caricature of Rossi lying on his hospital bed with his injured leg in a cast, has been donated to Riders by Rossi for auction. The bidding will start on Sunday afternoon, and there will also be a jacket of Jorge Lorenzo's on sale as well.

The auction will take place at www.riders.org, so make sure you log on and check it out!