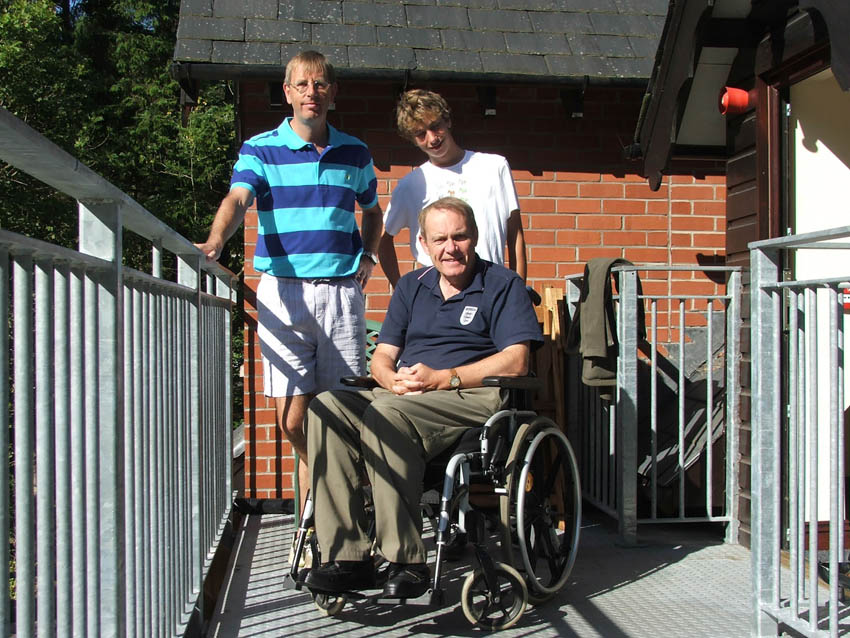 I recently had the privilege of being the first guest at the Joey Dunlop Lodge, Braddan Bridge. Created specifically to provide holiday accommodation for those with disabilities, the Lodge commemorates not only the motorcycling achievements of Joey Dunlop, but also his tireless work for charities. Formally opened by Joey's widow, Linda, and John McGuinness during TT 2010, the three apartments within the building are now ready to receive guests.

I, along with a friend / carer, Tony Phillips and his fourteen year old son, Robert stayed at the Lodge for a week during the Manx Grand Prix. [I am wheelchair bound, being a sufferer of multiple sclerosis].

The Trustees of the Joey Dunlop Foundation, under the chairmanship of Kevin Quirk, have done a tremendous job over a considerable period of time in achieving their long-term objective of providing such a wonderful facility for those with mobility problems. The three bedroom apartment in which we stayed is equipped with electric beds which can be raised to aid transfer, as well as having the facility to put the occupant into the upward reclining position. Wardrobe rails, drawers, light switches [including touch sensitive bedside lights] are fully accessible to those in wheelchairs. Two bath / wet rooms are equipped with a substantial number of grab rails, fixed and drop-down, alongside the toilets and showers; there is also an Aquatec chair with commode.

A Moveman SKG lift with automatic door and an outside phone line in case of emergency gives access to this, the upstairs apartment [the other two, a two and one bedroom apartment are on the ground floor]; an external stairway also provides access to upper floor. Fire doors throughout the apartment automatically close when an alarm is raised. A mobile Oxford Presence Hoist is also available to assist transfer.

In the lounge / kitchen area there is a sofa, electric reclining chair, dining table / chairs, coffee table, flat screen wall-mounted TV, radio, wi-fi internet connection, accessible cupboards, low-level hob / oven, microwave, etc - the sink even has an electric connection allowing it to be raised so that a wheelchair bound person can put their legs underneath in order to do the washing-up…oh, joy!
Towels, duvet / bed linen, basic kitchen consumables – tea, coffee, milk, etc – were provided.

All guests have access to the balcony, from which we got an excellent view of a practice session – during our stay a group of local children with disabilities were invited to watch the racing from here. The adjoining building, formerly a garage, has been converted to a utility room with washer, tumble dryer & sink unit; this area, I believe, will also serve as the office for the Foundation.

The Lodge is open all year around; for further information contact the Chairman of the Joey Dunlop Foundation, Kevin Quirk – kevinquirk@hotmail.com or visit www.joeydunlopfoundation.com

Fund raising is by no means finished – the Foundation, a registered charity, requires the money to continually update its equipment, provide consumables and carry out general maintenance.

Please 'spread the word' that the Isle of Man now has an excellent, appropriately priced facility for people with disabilities, due to the initiative and hard work of a group of people who were inspired by a truly great man – Joey Dunlop.