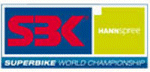 The only vee-four in the class proved the winner in 2010, as all the many technical advances and adjustments that featured on the RSV4 from its arrival in 2009 finally meshed together the way the Aprilia engineering team, led by Luigi Dall'Igna intended them to.

Variable height intake trumpets, a bespoke Aprilia injection and ECU system, ride-by-wire throttle control and inertial inputs for bank angle and overall machine attitude were just some of the technical feasts enjoyed by Biaggi and Camier in 2010.


Easily the most race-focused of the 2010 machines, the RSV4 was at its best at either fast circuits or smoother circuits. On more bumpy or scarred surfaces, the Aprilia's pure racetrack genes actually made it more of a handful than most other bikes, as agility edged towards sensitivity.


A quoted BHP output of over 215@15,000rpm seems a little conservative, but the Aprilia also made great use of its relatively small frontal area and narrow engine - not to mention great traction exiting corners - to post its consistently high top speed figures. The bore and stroke of 78 x 52.3mm was not the most radical in the class, although a compression ratio of 14.5:1 seemed as high as any other.


Overall adjustability on the Aprilia was greater than any other machine, but also the ease with which it could be adjusted was class leading. Not only was the engine a moveable feast, the headstock and swingarm alterable in several planes, but the cassette gearbox also saved time in the pits between sessions.


The biggest controversy in the life of the RSV4 was of course the adoption of full gear drive cams from Miller onwards, as the last piece of the full-race jigsaw was put in place.


Right on the weight limit of 162kg, the Aprilia was a truly special machine in full WSBK trim, as Aprilia intended it to be, and it formed the basis of a clean sweep of Riders', Manufacturers' and Team's titles.