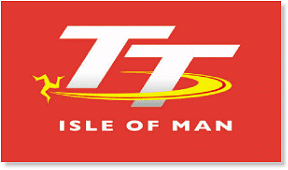 The Austrian/Manx pairing took the lead at Glen Helen on the opening lap and were never headed, catching Holden on the road and circulating together in high speed formation. Lapping at just under 115mph, the pairing were well clear of the rest of the field with Conrad Harrison and Mike Aylott overhauling Tim Reeves and Gregory Cluze on the final lap for third.

Klaffenbock and Sayle got off to a flying start to lead at Glen Helen on the opening lap but it was close with Holden and Winkle only one second adrift. Harrison was four seconds further back in third, only one second ahead of Reeves whilst Tony Elmer/Darren Marshall were up into fifth slightly ahead of Gary Bryan/Jamie Winn.

It was the same order at Ramsey Hairpin but Klaffenbock's lead was now up to 5.7 seconds as he had Holden firmly in his sights on the road and, indeed, by the end of the first lap, they were leading both on time and on the road. The advantage now stood at 11 seconds but there was a change for third with Reeves now some 3.5 seconds ahead of Harrison. Elmer and Bryan were still in fifth and sixth with the Birchall brothers now up to 7th although Dougie Wright and Greg Lambert were only 3 and 5 seconds adrift respectively.

Having taken the lead on the road, former World Champion Klaffenbock could afford to sit with Holden for the rest of the race and on the second lap the duo treated to the fans to a high speed duel on the roads as they swapped positions on a number of occasions. The lead was always around the 10 second mark for Klaffenbock and his second lap was 114.798mph although Holden was slightly quicker at 114.861mph, the gap now exactly ten seconds as they lapped nose to tail. Reeves was seemingly in control of third, his advantage over Harrison now six seconds.

Klaffenbock and Holden were secure in first and second with Reeves some 44 seconds back but he was now coming under serious pressure from Harrison, later attributed to a sticking throttle. At Ballaugh, the gap was down to 1.6s and by Ramsey, Harrison had seized control of the final podium spot, now some 3 seconds clear.

Klaffenbock and Holden crossed the line almost together to secure first and second whilst Harrison crossed the line in third for his second TT podium, and passenger Aylott's first, with Reeves a despondent fourth. Elmer and Bryan were fifth and sixth throughout to again secure strong finishes whilst the Birchalls enjoyed a strong drive on their return in seventh. The top ten was completed by Dougie Wright/Martin Hull, Greg Lambert/Aaron Galligan and Carl Fenwick/Mark Sayers, the latter comfortably the best newcomer, also putting in a superb fastest lap of 107.807mph.