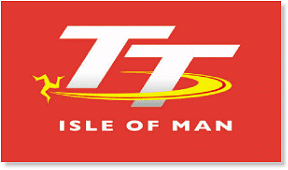 Johnson was in control throughout the race, leading from start to finish. He was already three seconds clear of McGuinness by the first checkpoint at Glen Helen on the opening lap, a lead he'd amazingly trebled by the time the riders swept through Ramsey Hairpin. Race favourite Michael Dunlop was already out though, the Street Sweep Yamaha rider having stopped at Ballacraine although he later proceeded after making lengthy adjustments, his opening lap almost 46 minutes!

An opening lap of 125.587mph gave Johnson the lead though and the Lincolnshire rider had a gap of almost ten seconds but the battle for second was extremely close, with McGuinness, Martin, Donald, Bruce Anstey and Dan Kneen separated by just six seconds.

Johnson continued to extend his lead and he went quicker still on his second circuit of the Mountain Course, a lap of 125.892mph putting him 15 seconds clear of McGuinness, an almost unprecedented margin in the Supersport class. Donald was the man on the move though, the Australian relegating Martin to fourth with Kneen was also moving up the leaderboard, the Marks Bloom Racing Yamaha man overhauling Anstey for fifth.

As the leaders made their pit stops, news from Ramsey Hairpin came through that the red flag was being shown with a number of riders stopping including David Hewson, Dan Cooper, Bill Callister and David Madsen-Mygdal but there was no word from race control of any issue and the race at the front continued, the riders who stopped eventually getting going, later to be credited the time lost.

McGuinness and Johnson were pressing ahead but Martin had now dropped time and, after being only half a second down on Donald at the end of lap, that lead had stretched to 10 seconds at Glen Helen, later revealed to be due to having seen a red flag as he swept through Union Mills. Indeed, at Glen Helen, the order was Johnson, Donald, McGuinness, Martin and Kneen, Johnson's lead now standing at 10.9s, four ahead of McGuinness with Martin now 8s further back in fourth.

Going into the final lap and Johnson maintained an 11s advantage over Donald who was now edging away from McGuinness who was circulating on his own at the head of the field. Kneen was out at Crosby, a cruel end to a fine ride, whilst Donald nibbled away at Johnson's lead throughout the lap but his Honda expired at Signpost, less than 2 miles from home. That enabled McGuinness to move up to second with Martin, Amor and Anstey all promoted up the order to 3rd, 4th and 5th. There was double heartbreak for the Wilson Craig Honda team with William Dunlop dropping out of 8th in the closing stages, his engine also having expired.

The late flurry of retirements allowed Conor Cummins to move up to sixth, his best finish of this yearís TT, with Ben Wylie having his best ever TT finish in seventh, again the first Privateer to finish. Roy Richardson, James Hillier and Mark Buckley completed the top ten with a superb ride coming from newcomer Dean Harrison in 12th place.

The results mean that McGuinness now has 76pts at the top of the TT Championship, 17 clear of Amor, whilst Ian Mackmanís retirement means its closed up in the battle for the Privateers Championship. He remains on 61 points with Wylie on 50 and Buckley on 49.