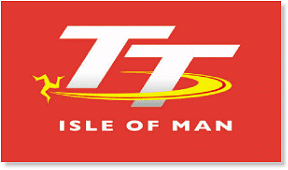 It was Klaffenbock and Sayle who, as with Saturday's first race, set off quickest and it was they who led through Glen Helen on the opening lap by 3.5s from Holden and Winkle with Harrison/Aylott a further four seconds back in third. Elmer and Marshall were up to fourth with Tim Reeves and Gregory Cluze back in fifth. Early retirements included the veteran pairing of Roy Hanks/Dave Wells and Greg lambert/Aaron Galligan.

That was of little concern to Klaffenbock though and at Ramsey, his lead had grown, albeit slightly, to 4.4s, but he really motored over the Mountain to overhaul Holden on the road. Harrison, Elmer and Reeves continued to occupy the top five with the Birchall brothers up to sixth but at the end of the first lap, a speed of 114.047mph gave Klaffenbock a 11.38s lead over Holden whilst Harrison held an 8.5s gap over Elmer, Reeves failing to make an impression in fifth.

On the second lap, Klaffenbock again lapped quicker than Holden, his speed 114.672mph, and had extended his lead to 16.94s, the top six remaining the same with Elmer, Reeves and Birchall all lapping within 2s of each other and in excess of 111mph.

At Glen Helen, Klaffenbock's lead was still 15.9s and the race seemingly in the bag but by Ramsey, the gap was down to just 6 seconds and when they went up the Mountain, Holden and Winkle were able to retake the lead on the road and on time, their advantage at the Bungalow a whopping 22 seconds. Klaffenbock was slowing with a broken water hose clip and eventually limped home in sixth place, their final lap a lowly 103.953mph, but Holden and Winkle finally took their debut TT win, a victory one of the most popular ever on the Island.

Harrison and Aylott were delighted to be in second with Elmer and Marshall equally happy as they took the final podium spot from Reeves and Cluze by just 0.81s! The Birchalls enjoyed their best ever TT finish in 5th with the top ten completed by Klaffenbock, Gary Bryan/Jamie Winn, Douglas Wright/Martin Hull, Rob Handcock/Ken Edwards and Carl Fenwick/Mark Sayers, the latter again comfortably the best of the newcomers, their final lap being a superb 107.839mph.