MARTIN TAKES 1000cc RACE WIN FROM DUNLOP IN REVERSE OF PREVIOUS NIGHT'S RESULT
Author: S100 Press Release
Posted on: Friday, Jul 15 2011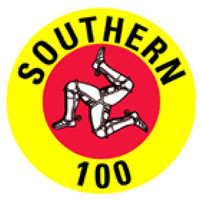 Wins for Ryan Farquhar and William Dunlop at Southern 100 Meeting

And so it proved as Relentless Suzuki by Tas Racing's Guy Martin gained revenge on Michael Dunlop with a narrow win over the Irishman. Martin's winning margin – 0.047 - was the sixth narrowest of any race in the event's 56 year history. Dunlop had the consolation of a new outright lap record time of 112.393, beating the time he set in Tuesday's race.

An earlier diesel spill between Cross Four Ways and Castletown Corner shortly before the scheduled 6.20 start resulted in a 50 minute delay and the race eventually began at 7.10pm once the road had been swept. Conditions were perfect but the delayed start resulted in the race being reduced from eight to six laps.

Martin began the race in pole position and, as with the previous evening's race, was quickly into his stride. He opened up a 1.1 second lead over Michael Dunlop by the end of the first lap and steadily increased it by lap three.

Behind the pair Ryan Farquhar held third with Conor Cummins taking advantage of a mistake by Cameron Donald, where he ran off down the slip road at Cross Four Ways, to move up into fourth.

As with the previous evening's race, Michael Dunlop began clawing back the lead but going into the final lap Guy Martin still in front and it was Martin who crossed the line first – albeit by only half a bike length from Michael Dunlop – with his winning margin only 0.047. Ryan Farquhar took the final podium position with Conor Cummins maintaining his fourth place and Dan Kneen taking fifth.

In the evenings other race the combined 650/250cc class saw wins for Ryan Farquhar (650cc) and William Dunlop (250cc) with Ryan also setting a new lap record of 99.472, breaking his own lap record of 98.240 that he set last year. Ryan held the lead from the start and came in just over 5 seconds ahead of Wayne Hamilton with Ian Lougher in third.

The 250cc class started a minute ahead of the 650's and Chris Palmer established an early lead after a poor start from William Dunlop. However Palmer retired at the end of the second lap leaving William to take victory with Phil Harvey and Jamie Coward taking second and third.

The rest of the scheduled racing programme was abandoned due to the state of the road following an incident involving Dave Taylor and Dan Sayle. Sayle was reported unhurt but Taylor was taken to hospital with fractures. A Flag Marshal was also reported to have received leg fractures in the same incident and a spectator was taken to hospital with an eye injury.

Today features a full day's racing programme including the Solo and Sidecar Championship Races. The programme gets underway at 10.20am.