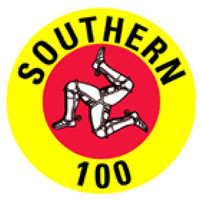 It was a solid week for Martin, who, although disappointed at not taking the Solo title, was happy enough with his performance on Relentless Suzuki by TAS machinery at the Southern 100.

Guy Martin:

"I thought I'd be able to pull Michael back today in that Solo Championship race but Ryan kept showing me a wheel. Fair play to him though he rode well. That temperature made a bit of a difference today - it must have been the thick end of 25 degrees - but no excuses. He broke the tow and that was it. The 600 race was some battle. At one stage I was second and then I was fourth so I'm happy enough to get on the podium. It's been a decent enough week. We would have liked more wins, but that's the way it goes and the boys did a good job."

Philip Neill - Team Manager:

"We obviously would have liked that Solo Championship victory but you can do no more than break the lap record trying to do so. That tells you how hot the pace was, so fair play to Michael. Guy had a decent week: we got a win, which is always good for our sponsors, and three podiums demonstrates the pedigree of Suzuki's GSX-R machinery.

"It's more mileage and more information as we prepare for the Ulster Grand Prix in August and after a few weekends ticking boxes with his crazy mountain biking trips, Guy will be back super fit for the Armoy Road Races at the end of July. With the entry they are expecting it looks like being a cracking weekend of racing."

Solo Championship [9 laps]:

1 Michael Dunlop [Kawasaki] 20mins 38.549; 2 Guy Martin [Relentless Suzuki by TAS] 20mins 42.601; 3 Ryan Farquhar [Kawasaki] 20mins 45.044; 4 William Dunlop [Honda] 20mins 52.539; 5 Cameron Donald [Honda] 22mins 05.138; 6 Dan Kneen [Kawasaki] 21mins 07.896.

Supersport Race:

1 Michael Dunlop [Yamaha] 18mins 58.558; 2 William Dunlop [Honda] 19mins 03.002; 3 Guy Martin [Relentless Suzuki by TAS] 19mins 03.644; 4 Cameron Donald [Honda] 19mins 03.824; 5 Dan Kneen [Honda] 19mins 22.186; 6 Conor Cummins [Kawasaki] 19mins 22.944.