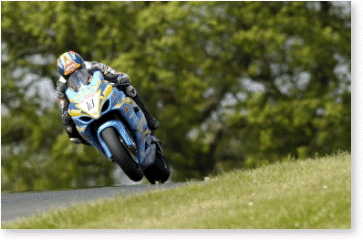 Final qualification was held in bright sunshine and high winds as both Rizla Suzuki riders improved the set-ups of their GSX-R1000s at the bumpy 2.18-mile Mondello Park circuit. Scott eventually finished 12th and within touching distance of the front-runners, while James was close behind in 15th. Honda's Jonathan Rea took pole position.

Superbike racing starts at 1:15pm on Sunday, May 15th, at Mondello Park in County Kildare, the Republic of Ireland. It will be shown live on Sky Sports and a highlights package will be broadcast on Channel 4 the following Sunday morning.

Scott:
"I am comfortable on my Rizla Suzuki and it is working well over the bumps and through the tight corners at Mondello Park. As the sessions progressed I was getting faster and faster and I think on race rubber we have a competitive package.

"The end of the third row isn't the ideal place to start, but if I can make a good getaway and can get up with the leading pack, I'm sure I'll be able to race with them."

James:
"I am bitterly disappointed with qualification - it is not where either the team or me expect to be. We tried a major change to the front suspension this morning that didn't work. We reverted to an earlier setting for second qualifying and went faster. I think with a bit more time on track we could have reduced our lap times even further.

"We are still working on the handling of the bike and will test a change to the geometry of my Rizla Suzuki in morning warm up that we think will help. After that it's all about getting a good start and seeing what we can achieve from there."

Niall Mackenzie, Team Performance Co-ordinator:
"Watching Scott on track today was really encouraging. He is now riding faster than at any other time this season and looks very composed and smooth compared to his competitors. His race pace is fast and if he can get away with the front group there's no doubt he has the ability to run with them.

"James is working hard and made progress during qualification. He is looking for more confidence in the front end of his GSX-R and his crew has a good idea how to achieve that. If he can find it, expect him to carve through the pack in the races and get some strong results."

Qualification Times: 1: Jonathan Rea (Honda) 1:39.344, 2: Glen Richards (Kawasaki) +0.131, 3: Leon Haslam (Ducati) +0.174, 4: Ryuichi Kiyonari (Honda) +0.305, 5: Michael Rutter (Honda) +0.380, 6: Michael Laverty (Honda) +0.530, 7: Gregorio Lavilla (Ducati) +0.559, 8: Gary Mason (Honda) +0.733, 9: Karl Harris (Honda) +0.753, 10: Dean Thomas (Kawasaki) +0.848, 12: SCOTT SMART (RIZLA SUZUKI) +0.936, 15: JAMES HAYDON (RIZLA SUZUKI) +1.601.