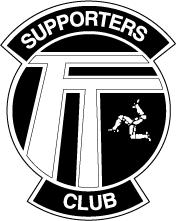 There will be a warm welcome for TTSC members at the Club's sales outlet in the Market Place at the rear of the Grandstand, situated in exactly the same position as last year. Members are invited to renew their membership, perhaps bringing a friend with them who might also join the Club. Souvenirs, memorabilia, TT clothing, race programmes, etc will be on sale.

As ever, the Club will be supporting competitors by providing those who are members with a 'gift package' constituting a commissioned quality body warmer, competitor's pen, duct tape, ear plugs, cable ties, etc, plus a special offer on XL Proban (fire retardant) overalls.

The TTSC has made a substantial contribution to the cost of the SIS Electrolyte Energy Sports drinks which can be collected by competitors from the TTRA Office, also at the rear of the Grandstand.

Two trophies donated by the Club will be keenly contested: competitors in the Junior Supersport races will be vying for the TTSC Trophy - a silver tray on a plinth, currently held by Gary Johnson for the best aggregate performance last year with a victory and a fourth position to his credit. Fiona Baker-Milligan will receive the Susan Jenness Trophy during this year's festival for her performance at the 2011 meeting, but who will take the mantle of the 'Most Outstanding Performance by a Female Competitor' this year?

£1,000 is up for grabs in the "Riders' Draw" to be broadcast live on the Charlie Williams Radio TT Show: 1st prize is £400, 2nd £200, then four of £100.

The TT Supporters' Club is always on the look out for members to fill a variety of roles within its organisation……..for further information contact Rose Hanks at the TTSC Shop during TT fortnight.