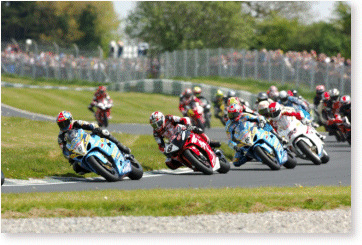 Starting from 15th on the grid, James had fought his way to fifth by the penultimate lap - winning the hearts of the fans with his hard charging progress through the field. He challenged for fourth place with only four corners to go but ran wide and through a gravel trap, rejoining to claim 10th. In race two he slid off on the bumpy surface with just three laps to go while fighting in the top 10.

Scott enjoyed a close-fought battle in the opening race, completing the first lap in 14th but snatching an impressive fifth place finish. In the second event he made a slow start and after getting through the traffic he ran similar lap times as the leaders and managed to get up to 8th by the end. Honda's Ryuichi Kiyonari won the opening race and Ducati's Gregorio Lavilla the second.

Rizla Suzuki is back on track on Tuesday, May 24th, for an official test at the Croft circuit in North Yorkshire. Croft then hosts the sixth round of the British Superbike Championship on Sunday, June 5th, and Rizla Suzuki is hoping that British Superbike Champion John Reynolds will be fit to return to the action after missing the last two rounds while recovering from a broken right leg.

Scott:
"I made some slow starts today and really suffered for that. When I got clear track in front of me in both races I was able to match the leaders for pace, but by then I was too far behind to make a challenge for the podium.

"We have a plan to test parts on the Rizla Suzuki and high on the list of areas we want to improve is my starts - we will have a look at different clutch settings to see what suits me best. I equaled my best result of the season today and that's an encouraging base to build on for the next round."

James:
"I am sorry for the Rizla Suzuki team as we should have had much better results. Race one should've been fourth but I made a small mistake and ended up 10th. In the second race I came together with another rider in the second corner, snapping my brake lever for the second round in a row. I tried riding round the breakage and was going for 9th when I lost the rear at turn four and slid off the circuit. I'm gutted.

"Thanks to the entire Rizla Suzuki squad for this opportunity. I can tell you that if we get away with the leaders there is no question we can run with them - and beat them. The Rizla Suzuki is a fantastic package and the results will come."

Robert Wicks, Team Manager:
"James and Scott were inspirational in the opening race of the day. For James to come from 15th on the grid and be within a whisker of taking fourth place on the last lap was awesome. The crowd went wild and you could hear the Rizla Suzuki fans cheering him on. Unfortunately he ran a little wide while trying to take fourth and ended up not getting the just rewards for his efforts. The second race saw that run of bad luck continue and he failed to finish despite posting quick lap times.

"Scott made the most of James running wide to pounce from seventh and take fifth in the opening race. In the next race he again proved he has the speed to match the front-runners but made a slow start and left himself with too much to do. We will go to the forthcoming Croft test with plenty of ideas to try to help him improve his starts.

"James has done a sterling job standing in for JR as he has been recovering from injury. We will run JR at the Croft test to evaluate his fitness. James and Scott shall also ride in the test and between them all we hope to make some solid progress in developing and setting the Rizla Suzukis up for the next round of the Championship at the same circuit on June 5th."

Race One Result: 1: Ryuichi Kiyonari (Honda) 30:22.490, 2: Michael Rutter (Honda) +7.783, 3: Gregorio Lavilla (Ducati) +8.159, 4: Karl Harris (Honda) +19.882, 5: SCOTT SMART (RIZLA SUZUKI) +20.575, 6: Michael Laverty (Honda) +21.002, 7: Sean Emmett (Yamaha) +22.576, 8: Gary Mason (Honda) +23.019, 9: Jeremy McWilliams (Honda) +23.207, 10: JAMES HAYDON (RIZLA SUZUKI) +24.974.

Race Two Result: 1: Lavilla 30:21.071, 2: Leon Haslam (Ducati) +0.018, 3: Kiyonari +0.387, 4: Laverty +1.539, 5: Rutter +3.598, 6: Glen Richards (Kawasaki) +7.437, 7: Harris +9.623, 8: SCOTT SMART (RIZLA SUZUKI) +13.029, 9: Mason +15.140, 10: McWilliams +21.943, JAMES HAYDON (RIZLA SUZUKI) DNF.

Championship Positions after five of 13 rounds: 1: Rutter 195, 2: Lavilla 149, 3: Kiyonari 141, 4: Haslam 120, 5: Richards 114, 6: Harris 102, 7: Emmett 79, 8: Dean Thomas (Kawasaki) 69, 9: SCOTT SMART (RIZLA SUZUKI) 62, 10: Mason 54, 14: JAMES HAYDON (RIZLA SUZUKI) 27, 19: JOHN REYNOLDS (RIZLA SUZUKI) 16.