Rizla Suzuki signs James Haydon
Author: Rizla Suzuki Press Release
Posted on: Friday, Jun 10 2005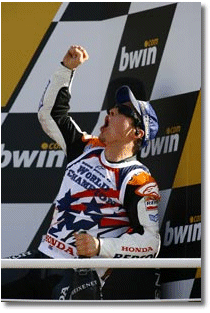 James agreed terms with Rizla Suzuki today. The 30-year-old Andorra resident already has experience with the team after racing at Oulton and Mondello Park on the GSX-R1000 while substituting for an injured JR earlier in the season. Prior to that, he took five Superbike race wins for Crescent Suzuki in 1998 and 1999.

It was at Oulton Park on May 2nd that James recorded the team's best result of the season so far with a 4th place finish. That impressive performance matched to a professional approach to racing meant he was first choice to join the team following the departure of Scott Smart.

"I am honoured to have been asked to join Rizla Suzuki and want nothing more than to repay that faith in me with race wins," enthused James.

"Racing for the team for two rounds earlier in the year really whetted my appetite. The approach of the team to racing is so professional and positive - I really enjoyed myself and this is a dream come true.

"I have missed too many rounds to challenge for the title in 2005, but I have been tasked with winning as many races and scoring as many podiums as possible in the second half of the season. That's my only aim now and with a bike as good as the Rizla Suzuki, I can't wait to get started."

James joins the team immediately at Donington Park for a two-day test on the 14th and 16th of June, where he will reacquaint himself with the Rizla Suzuki GSX-R1000 and spend time working on his set-up in readiness for the races. He will be joined by JR at the test and is looking forward to working with the Champion.

James said: "This is a great opportunity for my long term career and I don't intend to let anything get in my way. JR and I have been team mates before and we bring the best out in each other on track and I am looking forward to us motivating each other to go faster and win races. This is my dream team and I am the happiest man in Superbikes! Roll on the test at Donington!"

Rizla Suzuki Team Manager Robert Wicks said: "It was a pleasure working with James earlier in the season and we are delighted to have him on board. His talent is beyond question and he has already shown what he can do with very little practice on the Rizla Suzuki. With the next test under his belt he will be able to go to the seventh round of the Championship at Knockhill - where he won a race and took a second place in 2004 - ready to challenge at the front for race wins.

"With James in the team and a revitalised and fit JR returning to racing, I think this is the turning point of the season for Rizla Suzuki. There is a tangible optimism in the team now and it is only a matter of time before everyone's hard work is rewarded with podium results."