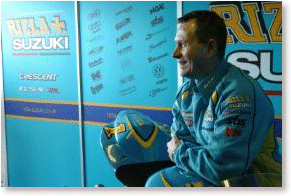 The reigning British Superbike Champion completed a productive test day at Donington Park last week and plans to use the second half of the racing season to prove he is a force to be reckoned with.

"I am now completely focused on fighting for podium places at Knockhill and for the rest of the season," explained JR. "And I know where I can find a lot of performance straight away - from within myself.

"I have not really raced all season because of my leg injury and now it is healed and it is not a factor any more. I have the ability, I have my Rizla Suzuki and now I need to dig very, very deep and make that extra commitment that is required to be a Champion. I've done it before and I'll do it again and Knockhill is the race meeting where I am coming out more determined than ever before."

Alongside a revitalized JR is new Rizla Suzuki rider James Haydon. He has stepped into the team for the rest of the season to replace Scott Smart and is keen to see what he can achieve with his GSX-R1000 after setting competitive lap times in last week's Donington test.

James said: "This for me is the start of my season. I now belong to the best team, have a bike that is mine and mine alone and I have an opportunity to prove myself. I absolutely cannot wait to get racing at Knockhill.

"Last year I won and finished second in the races at Knockhill and I like the circuit, it's just ace. I'm going to do my talking on track and would advise the fans to come and watch the racing - it's going to be worth it."

Superbike racing starts at 1:15pm on Sunday, June 26th, at Knockhill, near Edinburgh in Scotland. It will be shown on Sky Sports 3 at 18:30 on the same day. A highlights package will be broadcast by Channel 4 one week later.