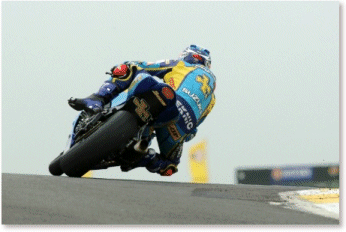 The rain fell non-stop during both 50-minute long practice sessions but bizarrely the 1.3-mile long Knockhill circuit gave the appearance of being almost completely dry. The constant droplets of water on the visors of both Rizla Suzuki racers encouraged them to ride safely as neither wanted to risk a crash in the difficult conditions.

JR was in the top four places for most of the session but ended up 9th, while James who had occupied sixth for most of the session was pushed back to 11th in the final few minutes. Honda's Ryuichi Kiyonari was fastest, less than a second ahead of the blue Rizla Suzukis.

Superbike racing starts at 1:15pm on Sunday, June 26th, at Knockhill, near Edinburgh in Scotland. It will be shown on Sky Sports 3 at 18:30 on the same day. A highlights package will be broadcast by Channel 4 one week later.

JR:
"I absolutely hate riding in conditions like today - it is just a complete lottery on how far you can push the limits of your bike. All day I was catching rain on my visor and not once did I commit fully to a fast lap, I just refuse to risk a crash in conditions like this during practice.

"At nine tenths and on race tyres we were running consistently quick lap times. I'm just over half a second away from the fastest today and feel I have a bike and package that can go a lot quicker if I allow myself to ride to my limits. I am incredibly frustrated and hope that it is either fully wet or dry for the rest of the weekend so I can show what the Rizla Suzuki is capable of."

James:
"If today had been qualifying or a race, I would have pushed to the limits. Instead it was constant rain, a treacherous track surface and first practice. - there was no way I was going to risk a silly crash.

"We made a few changes to my Rizla Suzuki as the day progressed and every step was a move forward. I honestly feel there is a big chunk of time to come when I have the confidence in the track conditions to push harder. I am not happy with 11th but for sure I can go a lot quicker when it counts during qualifying and the race."

Dave Marton, Team Technical Support:
"I was impressed by both riders during a difficult practice session. When it is raining but the track looks dry it is very easy to push too hard and crash. Both guys rode well below their limits and the fact they were so quick while not trying their hardest is also very encouraging - today's lap times are not a true reflection of how much performance we actually have.

"JR is absolutely happy with his Rizla Suzuki while James made progress trying different suspension and engine settings and is confident with his bike. Both are frustrated at having to hold back and I think that's a good thing - they are hungry and that will get the best out of them in qualifying and the races."

Practice Times: 1: Ryuichi Kiyonari (Honda) 49.953s, 2: Michael Rutter (Honda) +0.269, 3: Jonathan Rea (Honda) +0.383, 4: Michael Laverty (Honda) +0.513, 5: Gregorio Lavilla (Ducati) +0.536, 6: Dean Thomas (Kawasaki) +0.544, 7: Leon Haslam (Ducati) +0.611, 8: Glen Richards (Kawasaki) +0.641, 9: JOHN REYNOLDS (RIZLA SUZUKI) +0.667, 10: Tommy Hill (Yamaha) +0.912, 11: JAMES HAYDON (RIZLA SUZUKI) +0.935.