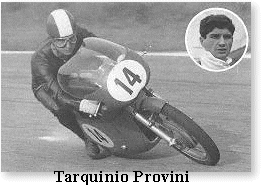 Two overseas TT heroes from years gone by, Guayla Marsovski and Tarquinio Provini, have recently passed away.

I'm not old enough to have seen Provini in action (other than in parade laps), but I do remember Marsovski from the late 60s and early 70s. To an impressionable youngster who loved hearing about the TTs of the past, these foreign names always had an especially magical ring to them.

Tarquinio Provini was perhaps best remembered for his performances on the Clypse Course in the 1950s where he specialised in the small bike races. He won 4 TT races, including a Lightweight/Ultra Lightweight double in 1959.

Guayla Marsovski's TT career spanned the years from 1961 to 1975, with a best position of 6th in the 1971 Lightweight 250 race. He took part in the famous Hailwood/Agostini Senior Race in 1967, finishing 14th on a Matchless, and appearing in the film of the race (Murray Walker commentating)several times.

Thanks for the memories - may they both rest in peace.