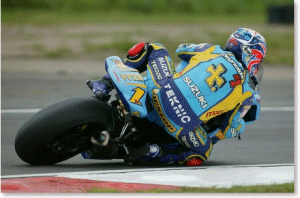 James set a stunning lap time during the morning qualifying session that placed him provisionally third on the grid. In the afternoon he crashed on his first out-lap on a qualifying tyre after spending much of the session fine-tuning the handling of his Rizla Suzuki. He rushed back to the garage and remounted his spare bike but failed to improve his lap time in the dying minutes.

JR was fifth in the morning session and spent the afternoon pushing the limits of his bike in race trim. He improved his lap time fractionally in the session but was baulked by traffic every time he went for a new personal best. He is confident he will be in the reckoning tomorrow. Ducati's Leon Haslam took pole position.

Superbike racing starts at 1:15pm on Sunday, July 10th, at the 1.95-mile long Snetterton Circuit in Norfolk. The action will be covered live by Sky Sports. Channel 4 will broadcast a highlights package of the race action one week later.

James:
"My Rizla Suzuki was great this morning and this afternoon we made small changes that improved it even further. I am devastated that I lost the front end on my out lap at the Coram Curve. After that I wasn't able to attack using a qualifying tyre.

"We think the front tyre may not have been up to temperature and I was pushing pretty hard for my out lap. It's unfortunate but I'll take the positives from today - I'm on the front of the second row, have a bike setting that is strong and on race rubber can match just about anyone. I'm a bit battered and bruised but that's not going to stop me going for it tomorrow."

JR:
"We made significant improvements to my GSX-R today and in the second session I was putting in lap times on race rubber as quick as anything I could do on qualifiers in the morning. I couldn't believe it when every time I went out on a qualifier this afternoon I was hampered by slower riders pulling out in front of me.

"I am on the second row and I am confident of getting a good start tomorrow as that is something I have been working on. I'm angry at being denied the chance to have a clear qualifying lap and I'll hone that anger tonight and focus it into my race effort tomorrow."

Niall Mackenzie, Team Performance Co-Ordinator:
"I am happy that both guys are on the second row and particularly pleased with JR's pace on race tyres - I think he will be fighting for the podium tomorrow.

"James has shown a great turn of speed all weekend but is gutted he crashed on his out lap with his first qualifier this afternoon. He's sore now but he's a determined racer and tomorrow you can expect the adrenaline to kick in and he'll be going for two podium finishes."

Qualification: 1: Leon Haslam (Ducati) 1:05.403, 2: Ryuichi Kiyonari (Honda) +0.032, 3: Michael Rutter (Honda) +0.178, 4: Michael Laverty (Honda) +0.315, 5: JAMES HAYDON (RIZLA SUZUKI) +0.386, 6: Steve Plater (Honda) +0.414, 7: Gregorio Lavilla (Ducati) +0.537, 8: JOHN REYNOLDS (RIZLA SUZUKI) +0.602, 9: Dean Thomas (Kawasaki) +0.661, 10: Karl Harris (Honda) +0.772.