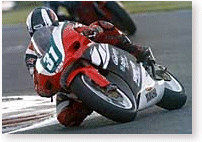 However, he is not too concerned about the risk, even though every year there are many accidents and even fatalities during the race and there is no speed limit in the Isle of Man.

"There shouldntt be too many problems as long as you ride within your own ability and donít try to push yourself too hard like you would on the short courses in the UK, otherwise it increases the risk of an accident," said Guillou.

With practice starting on Saturday 20 August, it is going to take a lot of learning. During practice, Guillou should clock up around 450 miles.

Racing starts on Monday 29 August with Guillou competing in the 250cc Grand Prix newcomers race, which will be over four laps, 150 miles with one pit stop for fuel.

In this race, the Guernseyman has been tipped to be on the podium come the end, possibly with a win.

On Friday, he will be competing in the 250cc Grand Prix Race against riders with a lot of experience on the Isle of Man course, so this will be a hard race. The motorcycle Guillou will be competing on is a full factory kitted Yamaha TZ250H, capable of speeds on the Isle of Man of up to 165mph.

Already this season the Sarnian has had three wins at the fast Snetterton circuit in preparation for the Manx Grand Prix, with the Yamahas data logging registering more than 150mph on a straight, nowhere near as fast as those on the Isle of Man.

Unfortunately, Guillou has not been able to race locally this season due to political reasons within Guernsey motorsport, but is really looking forward to the challenge of the Isle of Man TT circuit. It has always been an ambition of his to race there.

"I've done lots of road racing on the UK circuits for years and so have wanted to race there as it's a longer course and rather dangerous. It's a good test of my ability."

Also competing in the Manx Grand Prix is Guernsey rider Bernie Price, on a new Suzuki GSXR 750cc. It will be his first time also, though he has a lot of racing experience and will be very competitive in the 750cc class.

Guillou would like to thank his sponsors during the 2005 season, which are Condor Ferries, Road & Race, Sign Rite Motor Sport Graphics, Castrol, Race Visors and EBC Brakes.