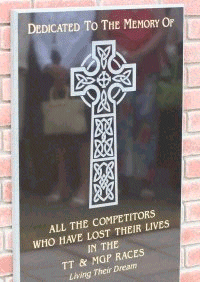 It was dedicated on Saturday by Lord Bishop Graeme Knowles.

The 25 foot red-brick memorial, featuring a marble Celtic cross and inscription, stands close to the start line off Glencrutchery Road.

Alongside, a stone seat has been erected in memory of local riders Tommy Clucas and Gavin Feighery, who died in last year's Manx Grand Prix.

The spot is intended as a quiet place of remembrance for relatives and friends.

Brass plaques featuring the names of loved ones will be placed on the wall.

The first 27 are expected to be fitted in September. Flowers can be tucked behind the plaques.

The memorial was the idea of Auto-Cycle Union benevolent officer Wyn Evans and her husband Des together with Peter Cain, director of the Manx Motor Cycle Club, and Terry Holmes, promotions manager of the Andreas Racing Association. Wyn explained the aim was to provide a place for personal tributes rather than a roll-call of all those who had died in the TT and MGP over the years.

She said: 'The memorial is for competitors only and only their families can apply for a plaque. It doesn't matter whether they were champions or not and all the plaques will be the same size.

'At the moment, we are able to fund the plaques but families can donate towards them or buy them if they wish. We are still accepting donations towards funding the plaques which cost £91 each.'

A tribute night organised by Andrea Racing Association funded the installation of the stone bench.

Wyn said families would be able to place flowers on the memorial rather than around the Mountain Circuit where they can be a distraction for riders.

She said she was delighted at how quickly the project, estimated to cost £6,000, had progressed after planning consent was granted at the beginning of the year.

'We sent begging letters for donations in January and building work only started after TT. I want to thank the bishop for dedicating the memorial, Douglas Corporation for all the help we've had and the builders Andy Faragher and Nick Crowe.'

Families of competitors who would like a bronze plaque in memory of their loved ones should get in touch with Wyn at 3, Mount View Terrace, Onchan, 622755.





As per the Manx Independent on the 29th July 2005.