JR looks to home crowd for inspiration
Author: Rizla Suzuki Press Release
Posted on: Thursday, Sep 22 2005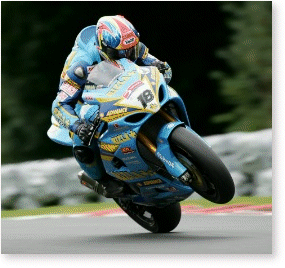 "Donington Park is close to my hometown of Nottingham and I hope that the Rizla Suzuki fans come out in strength this weekend," explained JR. "Like any rider, I am lifted and inspired by the fans if they are cheering me on.

"The Donington GP circuit is a fantastic technical track that is difficult to master. I'm back on top of my game and my Rizla Suzuki has benefited from a lot of development recently. It's not going to be easy, but I'll be doing my best to improve on the two thirds I finished up with at Oulton Park."

Rizla Suzuki tested at the 2.5-mile long Donington Park circuit in June with JR and his team mate James Haydon each completing more than 70-laps.

James said: "I can't wait to get racing at Donington Park. It's a fast flowing circuit that rewards commitment and I'll be giving it my all. My Rizla Suzuki is pretty much sorted and doing what I want it to do and I'm so hungry to win a race that it's all I can think about."

Superbike racing starts at 1315hrs on Sunday, September 25th, at Donington Park in Leicestershire. All the action will be shown live on Sky Sports while a highlights programme will be broadcast on Channel 4 one week later.