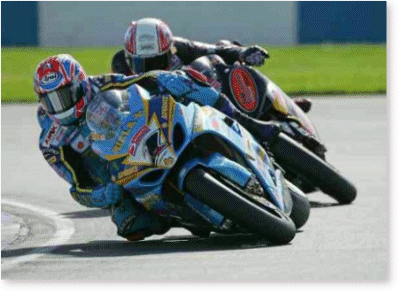 A change of fork settings before the opening dry race allowed reigning Champion JR to set the third fastest lap on his way to taking fifth place. A rainstorm before the second race meant the riders started on a damp track with a drying racing line - JR fell foul of the conditions when he strayed onto a wet patch and crashed unhurt early on.

James crashed without injury on the opening lap of the first race. His crew then made the same change to his forks that JR had found beneficial and that gave him extra confidence to fight through to fifth in the second race despite a poor start. Ducati's Gregorio Lavilla won both races.

Rizla Suzuki will be racing again at the final round of the 2005 British Superbike Championship at Brands Hatch GP circuit in Kent, on Sunday, October 9th.

JR:
"I'll go away from Donington and focus on the positives we have achieved here. We have been struggling to set-up the front end of the Rizla Suzuki but today we made a change that has given me much more feeling and confidence in my bike.

"Well done to my team for working so hard all weekend. I'm just gutted that early in the second race I came off the dry line onto a wet patch and crashed without getting a proper chance to show what I could achieve…I guess that will have to wait until we are racing at Brands Hatch."

James:
"I was disappointed to crash out of the first race when I lost the front end without any warning. We sat down after that and decided to make the same change to my forks that JR found beneficial. Thanks to that change my bike felt much better in the second race.

"I got caught behind a couple of riders from the start and because it was wet off the racing line it took time to get past them. Once I did, the extra confidence in my Rizla Suzuki let me get a move on and I was catching the leaders towards the end. I'm really excited about going to Brands Hatch and can't wait to get racing again."

Robert Wicks, Team Manager:
"Well done to the team for working so hard and providing both riders with new fork settings that gave them confidence to go faster than before.

"For JR to lap more than one-second faster than this time last year shows the solid progress we have made in 12-months. The good news is that there is still more performance to come as we learn more about the GSX-R1000. On top of that, advances in tyre performance by Dunlop means that we will go to Brands Hatch with real aspirations to mix it at the front and hopefully score strong finishes with both riders at the final round."

Race One Result: 1: Gregorio Lavilla (Ducati) 30:49.746, 2: Ryuichi Kiyonari (Honda) +2.054, 3: Leon Haslam (Ducati) +11.856, 4: Glen Richards (Kawasaki) +14.456, 5: JOHN REYNOLDS (RIZLA SUZUKI) +19.583, 6: Michael Rutter (Honda) +28.931, 7: Scott Smart (Kawasaki) +38.386, 8: Tommy Hill (Yamaha) +38.831, 9: Dean Thomas (Kawasaki) +38.921, 10: Gary Mason (Honda) +39.184.

Race Two Result: 1: Lavilla 21:26.230, 2: Haslam +4.022, 3: Kiyonari +5.970, 4: Rutter +11.612, 5: JAMES HAYDON (RIZLA SUZUKI) +14.758, 6: Thomas +17.401, 7: Mason +29.427, 8: Smart +29.974, 9: Karl Harris (Honda) +51.731, 10: Michael Laverty (Honda) +54.798.

Championship Points after 12 of 13 rounds: 1: Lavilla 416, 2: Kiyonari 403, 3: Rutter 353, 4: Haslam 305, 5: Richards 231, 6: Harris 195, 7: Thomas 176, 8: Mason 156, 9: JOHN REYNOLDS (RIZLA SUZUKI) 139, 10: Laverty 119, 12: JAMES HAYDON (RIZLA SUZUKI) 110.