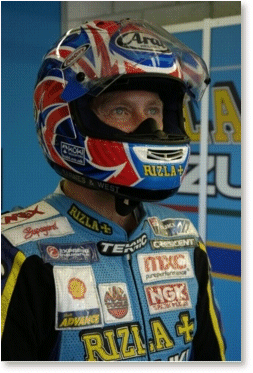 Reigning Champion JR was on his third lap of the 2.6-mile circuit in morning practice when he crashed into the tyre wall between Druids and Graham Hill Bend.

Following a thorough examination at the circuit medical centre, he was transferred to Darent Valley Hospital in Dartford where Dr Krishan Bhanot confirmed he had broken ribs on his right side, punctured his right lung and broken his left collarbone. He is currently undergoing a series of comprehensive scans to search for any further injuries. Medical staff at the hospital are pleased with his stable condition.

Rizla Suzuki's James Haydon was third fastest in the opening practice session and ended the day ninth overall after testing tyres and suspension parts on his GSX-R1000. James Buckingham crashed out of this afternoon's practice session unhurt without posting a competitive lap time. Ducati's Leon Haslam was fastest today.

Superbike racing starts at 1315 on Sunday, October 9th, at the 2.6-mile long Brands Hatch GP circuit in Kent. It will be broadcast live on Sky Sports and then on Channel 4 one week later as a highlights package.

JR:
"I don't know what happened to cause my crash today, but I do know I didn't want to finish my season this way. I'm in considerable pain from my broken ribs but the medical staff have been fantastic and I am receiving the best care possible, for which I am very grateful."

James Buckingham:
"I wish that this opportunity to race for Rizla Suzuki had not come about in this manner and JR was still able to race this weekend."

James Haydon:
"My thoughts are with JR right now and I hope he gets well soon.

"This afternoon we tested parts on my Rizla Suzuki and I am sure we can run fast lap times consistently on race rubber. Now it's down to tomorrow and doing my best to get a good qualification and grid position for the races on Sunday."

Robert Wicks
"I accompanied JR to hospital and I am pleased to say he is in good spirits despite his heavy crash. He's bitterly disappointed to have finished his season like this, but in true JR style, he is already looking ahead and planning his recovery down to the smallest details with his doctors.

"JR's been under expert care throughout, both at the circuit and at the hospital. The doctors are pleased at his stable condition. Today's events have been a shock to the whole team and all our thoughts are with JR. James Buckingham has stepped onto JR's Rizla Suzuki temporarily for this round and we look forward to seeing what he can achieve."

Practice times: 1: Leon Haslam (Ducati) 1:26.733, 2: Gregorio Lavilla (Ducati) 1:26.802, 3: Michael Rutter (Honda) 1:27.156, 4: Glen Richards (Kawasaki) 1:27.215, 5: Gary Mason (Honda) 1:27.434, 6: Karl Harris (Honda) 1:27.569, 7: Dean Thomas (Kawasaki) 1:27.683 , 8: Ryuichi Kiyonari (Honda) 1:27.727, 9: JAMES HAYDON (RIZLA SUZUKI) 1:27.737, 10: Jeremy McWilliams (Honda) 1:28.161.