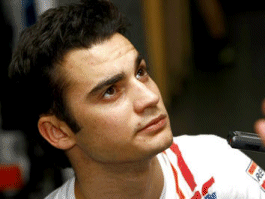 The factory's first win was in the 125cc class in 1961 when Aussie Tom Phillis won from Ernst Degner on an MZ. Honda has won more races than any other manufacturer and it was fitting that Dani should clinch the 600th in the country of Phillis' birth.

In the MotoGP race Nicky Hayden (Repsol Honda RC211V) pressed winner Valentino Rossi (Yamaha) all the way to the flag to take second place, Carlos Checa (Ducati) was third.

In bright conditions the 27-lap contest got underway with pole man Nicky swift off the line into the rapid downhill turn one. But Checa judged the lights well too and tried to force his machine up the inside of Nicky but was then badly placed for the next turn, so Hayden nosed in front.

Max Biaggi (Repsol Honda RC211V) did not last the lap. He crashed at turn four when the rear of his machine stepped out under braking. Alex Barros (Camel Honda RC211V) was another non-finisher when he crashed at the high-speed Hayshed turn in the closing stages of the race while lying sixth. He was winded and badly bruised but apart from that the Brazilian was uninjured.

On lap three Rossi took the lead from Nicky while Marco Melandri (Team Movistar Honda RC211V) edged past Checa into third place. On the next lap Marco also relieved Hayden of second and it looked as if the crowd could have been in for another epic Rossi/Melandri showdown as seen at Qatar.

But Melandri could not sustain his initial sprint and as Rossi pulled clear, Hayden had to set to work passing the Movistar man so he could try to get back on terms with the leader. The American wasted no time and in three laps he was working on Rossi for the lead.

The first five riders; Rossi, Hayden, Melandri, Sete Gibernau (Team Movistar Honda RC211V) and Checa were now well clear of the field and the Rossi/Hayden duel was itself drawing clear of the fight for third between Melandri and Checa. But it would soon drift back into their orbit as Rossi dropped the pace to upset Hayden's rhythm and let the chasers interfere with his progress.

Sure enough, Melandri relieved Hayden of second within two laps, and Rossi then set about building a lead. While he did that, Hayden had to squeeze past a typically determined Melandri and try as he did, he could never then recover the one second advantage held by Rossi.

He shaved it down to 0.85 seconds in the closing laps but it was 1.007 second at the flag. Checa just stole third from Melandri over the line after the pair had swapped places twice in the closing laps. Gibernau faded to finish fifth.

Nicky said, "That was a tough race and I enjoyed it. Valentino was setting a good pace so I just sat there. It all felt good running at that speed – just nice and comfortable. A couple of times Rossi picked up the pace and I could respond. Then the others caught up and me and Marco battled a bit and just gave a slight advantage to Valentino. You can't give a guy like him a one-second lead round here with a few laps to go.

"It's been a really nice race," said Melandri. "I fought hard until the end and I was hoping to finish on the podium. I thought I had Checa under control but he passed me in the slipstream. Despite that I am satisfied – it has been a difficult weekend but this morning the team did a great job and the bike was working really well. I gave my maximum and I am happy. I arrived here two points behind Max Biaggi and now I am level with Nicky Hayden in second place."

Gibernau said, "We've struggled all weekend. This morning I thought we took a step forward in the warm up but in the race I had a lot of problems. The bike was sliding around and I couldn't finish any higher."

Makoto Tamada (Konica Minolta Honda RC211V) finished eighth and said, "I lost feeling with the front tyre. I couldn't push as I did in the warm-up, particularly in the left turns. In the last laps it has been very hard to remain with Toni and Shinya. From Istanbul I really hope to do better. I know that thanks to the technical package at our disposal and my qualities, we can do more."

Chris Vermeulen, standing in for the injured Troy Bayliss (Camel Honda RC211V), finished 11th on his first RCV ride. The Aussie said, "It was an okay race, nothing more as far as I'm concerned. I wanted to get into the top ten, but I got boxed in at the start and took the first lap cautiously. Then I picked up the pace, I felt good and passed Jacque, Xaus and Hopkins. They're all riders with experience and as I followed them before attacking, especially John, I learnt so many things about race management."

Max said, "It is very hard to explain my disappointment. To sit back in the garage after crashing out of the race so early and watch the race on TV is so hard when I know I could have been up at the front fighting with the leaders. One moment I was braking for the corner the next moment the bike was on its side. That's as much as I can say."

A battered Barros said, "At the moment I'm in a lot of pain even though they've given me some painkillers. I took a big hit to my side but everything's hurting at the moment. I was riding well, keeping my rhythm going without pushing too hard but then I suddenly lost control of the front. It would have all been okay if I had just slid out and travelled along the ground, but when I hit the gravel trap the sudden deceleration flipped me up into the air."

Nicky and Marco are now locked together on 170 points each as they strive to pick up the runner-up spot in the World Championship with two races and 50 points available.

Dani Pedrosa (Team Movistar Honda RS250RW) won his second consecutive 250cc World Championship in style here with a last gasp draught of Sebastian Porto (Aprilia) over the line. Jorge Lorenzo (Fortuna Honda RS250RW) finished a distant third.

Porto has won here before and his second place on the grid was testament to the Argentine's competitiveness here, but Casey Stoner (Aprilia) on pole was the man many feared might dent Dani's World Championship ambitions. He had won the last two races and was now riding at his 'home' track.

But Stoner's outside chance of denying Dani his title came to grief when he crashed on lap four while leading. If Dani won the race the 250cc crown would be his, but the veteran Porto is never easy to beat and so it proved. A momentary lack of traction from the Argentine in the long left-hand turns onto the start/finish straight was all it took for Dani to seize his moment and dart out the slipstream to take the win.

It's a doubly sweet win for Dani. It was here that he badly broke both his ankles in 2003. So to take his third World title and second 250cc title here in such style and to secure Honda's 600th Grand Prix before he moves up to the MotoGP class next season as a Honda rider is no more than he deserves.

Dani said, "That was difficult because qualifying was hard, but I started well and pushed hard on cold tyres to stay with Stoner until he crashed. Then I stayed with Porto and he was good in the turns but my engine was strong today. I couldn't have done this without the work of my team so thanks to them."

Lorenzo said, "I'm not happy with third because I was half a second a lap away from the leaders on every lap and that's too far away. I wasn't really in the same race."

Hector Barbera (Fortuna Honda RS250RW) had his best result of the season with a fourth in his rookie year. He said, "This is the first time this year I'm happy – now that I've had a good bike for the whole weekend. Fourth is not a dream result but now I have the confidence to expect more in Turkey next weekend."

Andrea Dovizioso (Scot Racing Team Honda RS250RW) was fifth and said, "During the whole weekend we had setting problems we were not able to solve. As a consequence, after three laps, my rear tyre was finished. It was very difficult to ride in those conditions. I just tried to get as many championship points as possible."

Honda's chances in the constructors' World Championship were given a welcome boost here with five Honda's filling the first six places. Honda now has 304 points to Aprilia's 298.

Thomas Luthi (Elit Grand Prix Honda RS125R) stole back the advantage in his fight for the World 125cc Championship with a strong pole to flag victory where no one, not even his title rival Kallio (KTM), who finished fifth, came close.

Luthi had a lead of 1.3 seconds even by the end of the second lap, and by mid-race it was 3.6 seconds over the then second placeman Marco Simoncelli (Aprilia). But behind Luthi it was hard going in a pack of seven riders.

Kallio, who was in the group, looked to have gone clear in second place with two laps to go, but the group swallowed up and spat him out in fifth, damaging his title hopes, although not irretrievably.

Tomoyoshi Koyama (Ajo Motorsport Honda RS125R) finished second for his first Grand Prix podium in a mad dash for then line with Simoncelli third and Mattia Pasini (Aprilia) fourth. The trio were separated just ten thousandths of a second.

Luthi said, "A great race for me. The team did well to get me on pole and give me a bike to win with. This is a hard track to have to get out front and win on, you have to really concentrate here, but it worked out OK."

Koyama said, "I was confident in the fight because I knew that if I was with the top group on the last lap I had a chance of getting a good result – and I got second which is great for me and my team."

Luthi now leads the World Championship from Kallio by 12 points with two rounds remaining. In the Manufacturer's World Championship KTM has 294 points, Honda 269 and Aprilia 260.