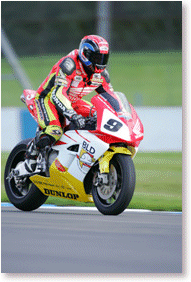 However, despite it being a development year for the new team and the UK-built CBR1000RR Fireblade, Harris achieved two podiums and 16 top ten positions, and finished seventh overall ahead of more experienced Superbike riders such as John Reynolds and Sean Emmett.

Now, after completing just one year in the worldís leading domestic road racing series with Honda Racing, the Sheffield-based rider has been rewarded with a factory ride. In next yearís British Superbike Championship, Harris will campaign a HRC-supported HM Plant Honda Racing CBR1000RR Fireblade Ė one of the most successful machines in the Superbike paddock.

In the first instalment of his most candid interview this year so far, the gritty Yorkshireman talks about his performance in the this yearís series, and if he has any regretsÖ

Q. How is the foot you injured at Brands Hatch?
A. Itís not too bad. It is still in fixation with pins at the minute though. Iíve been laid up pretty much since the season ended and I canít drive, so I havenít really been out anywhere. Iíve been glued to daytime telly Ė The Weakest Link and Egg Heads are my current favourites! Iíve also been watching the 2005 MotoGP review Ė I know it just about word for word!

Q. How do you rate your performance in your first year in the British Superbike Championship with Honda Racing?
A. I think I did a half-decent job. To be honest, the result we got wasnít what I was expecting, but at the end of the day, 2005 was a development year for Honda-Racing.co.uk and the CBR1000RR Fireblade. More than anything else, it has been a valuable learning experience for me.

Q. How do you think the series has changed since you last contested the Superbike class in 2002?
A. It is really different. The abilities of the teams, riders and tyres have progressed in leaps and bounds and the competition is fierce. Itís a lot tougher than I remember.

Q. Did the British-built Honda-Racing.co.uk machine live up to your expectations?
A. I knew my first year in the series was going to be tough. Although I contested a new team and a new bike, I still had some good results. Because we didnít have any data from last year for the Honda-Racing.co.uk Fireblade, we found it hard to find a good set-up at certain tracks. But then, at other circuits, setting up the bike was easy.

Q. What do you think has been your best moment of the 2005 season and why?
A. My podiums at Oulton Park were a big achievement for me and I think finishing the season in seventh is okay. However, Iím proud of the overall year Iíve had. Iíve learnt a lot about the British Superbike series and I can look back on the year and learn from the mistakes Iíve made. Above all, this year has prepared me for a fantastic season ahead with HM Plant Honda Racing.

Q. After just one year in the Superbike class, did you expect you would be riding with factory team HM Plant Honda Racing in 2006?
A. Never! Neil [Tuxworth, Honda Racing Team Manager] sat me down at the last round at Brands Hatch and told me Iíd got the factory ride with HM Plant Honda Racing. Iíll always remember the time Ė 5.30pm Ė because it is my best moment to date.

I was given an HRC engine to test at Brands Hatch, and it was fantastic. In a strange way, I felt as though I was coming home Ė the bike could have been made for me. It was so comfortable, it was like the HM Plant Honda Racing CBR600RR I used to campaign. Iím really proud to be returning to the team that helped me win the 2004 British Supersport Championship Ė for sure.

Q. How do you think the HRC-supported HM Plant Honda Racing CBR1000RR Fireblade will compare to the Honda-Racing.co.uk machine you campaigned this year?
A. I anticipate that it will be quite different. With the Honda-Racing.co.uk bike, every race meeting was like trial and error. But, the HM Plant Honda Racing team has collected a lot of data over the past couple of years so things will probably run a lot smoother in comparison.

Q. Have you started testing the HM Plant Honda yet?
A. Not yet. In a way Iím glad because I would probably do more harm than good with my foot! Weíve got a test coming up at the end of the year and I canít wait to get started.

. How do you feel about having Ryuichi Kiyonari as a team-mate?
A. Itís fantastic. Heís a good lad and a really great Superbike rider. He did so well this year and surprised a lot of people. Iím looking forward to having the support of a team-mate again. I think Iím going to watch the 2005 British Superbike review DVD to pick up some tips from him!

Q. Are you doing any special training in preparation for next season?
A. Iím not really doing anything at the moment because Iím stuck at home with my bad foot. But, when the pins come out Iím hoping to start building up my strength again. I think Iíll start off gently with some cycling and swimming. I might even get a couple of rounds of golf in tooÖ

Q. Have you set yourself any health targets ahead of 2006?
A. Iíve got a new personal trainer for next year, Eddy. He trains the England rugby team and is putting together a diet and fitness plan for me, so Iím looking forward to getting stuck into some real training when my foot gets better. Iíve been following a high protein, low carbohydrate diet for a while now because stodgy foods make me sleepy. Although, I have been letting myself go since Iíve been house-bound!

Q. What are you most looking forward to next season?
A. Just getting on the bike Ė I canít wait. Roll on 2006!