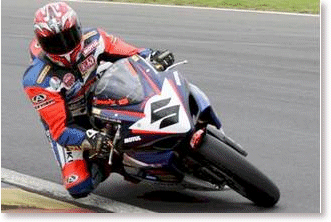 Having not ridden this South Island circuit for over a decade, Giles was impressively quick to re-acquaint himself with the track layout, securing second place on the grid behind local hero Andrew Stroud.

Giles and fellow GSX-R1000 rider Stroud were the only riders to dip under the one-minute barrier in Saturday's qualifying session around the 2.570km circuit.

Difficult and uncertain weather conditions for race one were highlighted by the series' three leading contenders making vastly different tyres choices with Stroud running dry tyres, Giles on intermediate Dunlops and fellow Suzuki rider, Ray Clee opting for full wets.

Giles' decision paid dividends as he headed the field on lap two with Stroud in hot pursuit and he held him at bay for the majority of the race until a minor error allowed Stroud an opportunity to slip by, relegating Giles to second. The leading pair was only separated by a couple of bike lengths and crossed the finish line at the end of lap nine more than six seconds clear of third place.

Race two was contested in full wet conditions and after making a strong start, Giles slipped back into an unfamiliar fifth place on the opening lap and was unable to regain track position in the wintry 10-lap battle.

Fellow Australian, Suzuki privateer Scott Charlton, was the surprise package for race two, challenging Stroud from the start and eventually assuming the lead on lap four before extending his lead to almost five and a half seconds at the flag..

Race three was cancelled due to torrential rain making it unsafe to continue with the meeting.

Passing the half-way point in the series, Suzuki's continued domination sees the internationally renowned GSXR-1000 hold the top four places.

Said Giles: "In the first race there was only a very thin dry line and I ran a little wide coming on to the back section of the track - the track was so wet and slippery and that gave Andrew Stroud the opportunity he needed to get past me.

"The weather conditions were wicked here this weekend, but we still managed to strengthen our position in second place. Now we just have to push hard in the next two rounds and hope that 'Stroudie' offers us an opportunity to close in on the championship lead."

Giles faces his next trans-Tasman challenge in Timaru on January 13-15th for the penultimate round of the New Zealand Superbike Championship.

Championship Points: (after round 3 of 5): 1. Andrew Stroud (Suzuki) 177, 2. Shawn Giles (Suzuki) 141, 3. Ray Clee (Suzuki) 122, 4. Scott Charlton (Suzuki) 119, 5. Jared Love 81, 6. Dean Fulton 72, 7. Chris Haldane 67, 8. Jon Lowther 60, 9. Jason McEwen 56, 10. Michael Smith 46.