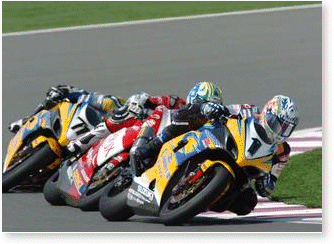 The reigning World Champion – who finished fourth in the opening race – led from the fifth lap of the 18-lapper and fended off several last-minute challenges by fellow Australian Troy Bayliss (Ducati). The lead swapped several times on the final lap, but Corser held the advantage coming out of the final corner.

It was a disappointing day for Corser's team mates Yukio Kagayama and Fabien Foret: Kagayama was leading the first race on the last lap, but was taken out by Noriyuki Haga at the hairpin. Haga lost the front end and crashed, his bike then hitting Kagayama's which knocked him off. And in race two, clutch problems forced his early retirement.

Fabien Foret had a debut to forget - though not of his own fault. A broken sensor sidelined him in the first race and a problem with electronics caused an early stoppage in race two.

Corser and Suzuki now lie second in the rider and manufacturer standings, two points adrift of Bayliss and Ducati.

Troy Corser (Race 1: 4th, Race 2: 1st):

"It's possible that I may have over-revved the bike at the start of race one and worked the clutch too hard. It was ok at first, but after six or seven laps, I had a problem with it going into the hairpin. It jumped and was completely out, so I had to wait until a straight and try and dial it back in a bit. It made life difficult entering the turns and so I had to brake harder on the entry and that probably worked the front tyre too hard. I think I was lucky to finish the first race because the clutch was very hot.

"I also had some problems with the clutch in the second race, but not as bad as the first. Towards the end of the race I could hear a Ducati nearby and I knew it was probably Troy Bayliss. The tyres were more or less finished on the last couple of laps and I almost overcooked it on the last corner, but I managed to keep it upright and take the chequered flag.

"Both races were really hard - certainly much harder than the races here last year - and I think everybody knows that this is going to be one long, hard season for sure."


Yukio Kagayama (Race 1: DNF, Race 2: DNF):

"I am not sure if I could've won the first race because Nori Haga was very strong. For sure I had a good chance, but when his bike hit me on the very last lap it was all over - for both of us. I was ahead of him at the time and I think he must have just lost the front going into the turn and the bike went down and then struck me. Of course it was a disappointment - but that is racing. We both just wanted to win.

"I had clutch problems more or less from the start of the second race. I could feel straightaway that it wasn't working properly and so I tried to wind the adjuster back for the first few laps. Then I had a problem with Fabrizio in turn one when he overdid it and nearly hit me. To avoid him, I had to go off the track and I lost a lot of positions. After that it was a lost cause."

Fabien Foret (Race 1: DNF, Race 2: DNF):

"I had a few problems in the first race right from the very beginning when I had to take a different line to avoid Alex Barros. Then, just three corners later, Craig Jones crashed right behind me and I had to change my line to avoid being skittled by his bike. I then began to relax a little but a few laps later I began to experience chattering from the front end. Finally, the bike just suddenly stopped after six laps because of a broken speed sensor.

"I'm not sure what the problem was in race two. The bike was stuttering and misfiring and then stopped completely. It's not the kind of start I had hoped for, but here and Australia are really tests for me and the team so it's not a big disaster."

Qatar WSB Results:

Race 1: Toseland (GB-Honda), 2 Bayliss (Aus-Ducati), 3 Pitt (Aus-Yamaha), 4 Troy Corser (Aus-Alstare Suzuki Corona Extra), 5 Fabrizio (I-Honda), 6 Barros (Bra-Honda), 7 Rolfo (I-Ducati), 8 Chili (I-Honda), 9 Borciani (I-Ducati), 10 Neukirchner (D-Ducati). Yukio Kagayama (J-Alstare Suzuki Corona Extra) DNF. Fabien Foret (F-Alstare Suzuki Corona Extra) DNF.

Race 2: 1 Troy Corser (Aus-Alstare Suzuki Corona Extra), 2 Bayliss, 3 Haga, 4 Toseland, 5 Pitt, 6 Lanzi (I-Ducati), 7 Barros, 8 Fabrizio, 9 Muggeridge (Aus-Honda), 10 Xaus (E-Ducati). Yukio Kagayama (J-Alstare Suzuki Corona Extra) DNF. Fabien Foret (F-Alstare Suzuki Corona Extra) DNF.

Championship Points: 1: 1 Bayliss 40, 2 Corser 38, 3 Toseland 38, 4 Pitt 27, 5 Fabrizio 19, 6 Barros 19, 7 Haga 16, 8 Rolfo 12, 9 Muggeridge 11, 10 Lanzi 10.

Manufacturer Points: 1 Ducati 40, 2 Suzuki 38, 3 Honda 38, 4 Yamaha 32, 5 Kawasaki 7.