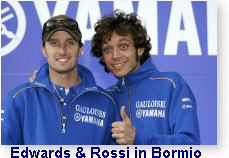 Rossi felt progressively worse throughout the first day of testing but the Italian had hoped to be recovered enough to ride today. Unfortunately this was not the case and he was forced to spend the day resting in the hotel in the hope that he will be well enough to resume his testing program tomorrow. Rossi was not the only rider to be suffering today; Fortuna Yamaha rider Ruben Xaus was watching from the pit wall, sidelined by minor injuries picked up at the last test, and Loris Capirossi (Ducati) was also sick and headed back to his hotel after just ten laps left him feeling too ill to continue.

Testing alongside MotoGP teams from Honda, Ducati, Suzuki and Kawasaki, as well as the Fortuna Yamaha Team, Edwards completed 50 laps of the 5.548 km circuit on his 2005-spec machine. Once again the main task of the day was Michelin tyre testing, although some time was also spent working on engine mapping. The Texan rider eventually finished the day a little early after a best lap of 2.02.378, which put him eighth in the unofficial standings. Honda rider Max Biaggi recovered from two crashes yesterday to post the fastest time of the day in 2.01.501, while the next three positions were filled by his fellow Honda riders Sete Gibernau (2.01.686), Nicky Hayden (2.01.717) and Alex Barros (2.01.786).



Colin Edwards (2'02.378, 50 laps)

"It was tyres again today! We did little bits here and there with the engine, but tyres were the main focus. Hopefully tomorrow we will get a bit more time to try some other things and we are also going to do a long run, which will be tough in these conditions! I amm ready to leave Malaysia now; this is our third test in a row here and I am ready for a change of scenery! We have got one more day here and of course I will keep pushing as hard as I can throughout it. I feel really good about everything but I am looking forward to getting out of here and moving on to Phillip Island next week."



Daniele Romagnoli, Colin Edwards' Crew Chief:-

"Today was hard work for everyone because it was so hot. We did some more tyre testing and found some positive things to help us move forward. We also worked a little on the engine mapping. Our performance is at the same level as at the last test and now we are looking for better handling and agility in order to move forward again, so we will keep focusing on this tomorrow for the final day."



Davide Brivio, Gauloises Yamaha Team Director:-

"Yesterday Valentino felt weak at the end of the afternoon and this morning he felt worse. We called a doctor to visit him and he found that Valentino has a throat virus. We decided together that it was better to keep resting and lose only one day, instead of pushing and trying to continue with uncertain results. We will see how he feels tomorrow and decide whether we will be able to test or not."