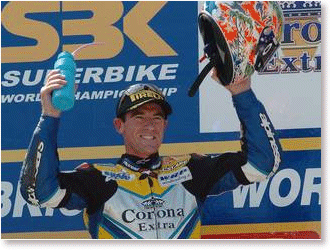 He won the first race after a tremendous battle with Troy Bayliss (Ducati) and Alex Barros (Honda), then crashed out of the second race while challenging for the lead.

In the opening race, Corser took the lead when Bayliss slowed because of trashed tyres. Barros was right with him and proved to be more than a handful in the closing stages, but Corser used his experience and took the chequered flag by almost half a second.

Team mate Yukio Kagayama suffered clutch problems and was forced to overshoot Honda hairpin and rejoined the track in 21st place. He charged his way back up the field and managed 12th place before running out of laps. Fabien Foret was 13th after the first lap, but was forced to retire with a throttle problem after 10 laps.

The second race was another one of drama for the team, starting with Corser's crash after three laps when he highsided just after Lukey Heights. In the fall, he was hit by Barros' Honda and was lucky to escape serious injury. The footpeg of the bike hit him just behind his head and the rest of the bike struck his shoulder, elbow and hip. He was taken to the Clinica Mobile but the X-Rays revealed no broken bones. To make sure, Corser went to Melbourne hospital for a precautionary check.

Kagayama was 12th at the end of lap one before getting stuck in a group of riders. He had a difficult time getting through the pack but he fought hard and grabbed sixth position at the flag.

Foret made a good start but had to run wide at the second turn to avoid another rider which dropped him well down the order. He ended 18th after being caught up for the second part of the race with the Yamahas of Shinichi Nakatomi and Sebastien Gimbert.

Troy Corser - Race 1: 1st, Race 2: DNF:

"Well that was a day and a half for sure. A fantastic win in the first race and then a crash in the second! I knew Bayliss would not be able to keep up that pace in the first race and that his tyres would not last. I got caught in a group at the beginning and knew that I couldn't hang around with them too long, so when James Toseland made a little mistake and ran wide, I sneaked through. When I caught Bayliss, I could see he was having problems, so it was no surprise when I passed him - in fact he let me through. I then had a pretty good fight with Barros, but held him off at the end. In race two, on the approach to the turn after Lukey Heights, I lost the rear end suddenly and highsided. I felt a thud on my back and knew I had been hit by a bike. I went to a hospital in Melbourne for a check-up. I really don't know why I crashed because the telemetry shows that I wasn't doing anything different to the previous laps. But that's racing!"

Yukio Kagayama - Race 1: 12th, Race 2: 6th:

"Not such a good day I think. I had problems with the clutch in the first race - similar to Qatar - and it was very difficult to ride the bike. The feeling was not consistent and sometimes it worked ok and sometimes it did not! I did my best to stay out and finished 12th. In race two, my start was not perfect and that meant I had a lot to do in the race. It is always hard to make a good result from the third row of the grid, but if I had made a better start then I think I could've challenged for a podium."

Fabien Foret - Race 1: DNF, Race 2: 18th:

"It was a bit of a disappointment for me today but it's all part of my learning process in Superbikes, I guess. I really thought that I would be able to score some points today, but the DNF in race one didn't help. My throttle was not consistent at all - sometimes it would stay open after I had shut it - so I had to pull in. I made a good start in the second race, but had to run wide to avoid a rider who had made a mistake and that cost me many places. Then I got caught up in a battle with two Yamaha riders and that was that. I am looking forward to some tests before the next race because I need to understand this bike more than I do at the moment."


World Superbike Results:

Race 1: 1 Troy Corser (Aus-Alstare Suzuki Corona Extra) , 2 Barros (Bra- Honda), 3 Toseland (GB-Honda), 4 Haga (J-Yamaha), 5 Rolfo (I-Ducati), 6 Bayliss (Aus-Ducati), 7 Xaus (E-Ducati), 8 Nieto (E-Kawasaki), 9 Pitt (Aus-Yamaha), 10 Walker (GB-Kawasaki). 12 Yukio Kagayama (J- Alstare Suzuki Corona Extra). Fabien Foret (F-Alstare Suzuki Corona Extra) DNF.

Race 2: 1 Bayliss, 2 Toseland, 3 Barros, 4 Haga, 5 Pitt, 6 Yukio Kagayama (J-Alstare Suzuki Corona Extra), 7 Rolfo, 8 Xaus, 9 Nieto, 10 Walker. 19 Fabien Foret (F-Alstare Suzuki Corona Extra).

Points: 1 Bayliss 75, 2 Toseland 74, 3 Troy Corser (Aus-Alstare Suzuki Corona Extra) 63, 4 Barros 55, 5 Pitt 45, 6 Haga 42, 7 Rolfo 32, 8 Fabrizio 25, 9 Xaus 24, 10 Nieto 19. 12 Yukio Kagayama (J-Alstare Suzuki Corona Extra) 14.