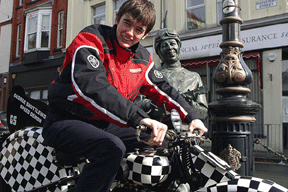 Conor Cummins has become the latest top flight newcomer to be signed up for this year's Isle of Man TT Races. The Manx resident will line up in the Superbike, Superstock and Senior events and will also be one of the youngest participants in the event, at just 20 years of age.

For the last two seasons, the Ramsey born and bred rider has been competing in the high profile Virgin Mobile Yamaha R6 Cup, ran alongside the British Superbike Championship, finishing 6th and 9th overall in 2004 and 2005 respectively. At 6"5, the teenager had a significant presence in the field, where he regularly featured at the front of the pack, and for 2006 he will make the step up to the British Superstock Championship, campaigning his own R1 Yamaha. A North West 200 debut was already agreed but he has now decided to sample the TT as well and although a surprise to some, Conor is in no doubt that it is the right decision.

Speaking about the prospect of making his Mountain Circuit debut, Conor said:

"I have been brought up with the TT, and always planned on making taking part at some stage. My situation has changed such, that now with my own machinery and team infrastructure; I can race where I want to, so it is the perfect time to take part in the TT. I am really looking forward to it, and can't wait to go down Bray Hill for the first time. As a local lad I know the circuit well, but I am spending a lot of time going round the circuit taking advice from people like Milky and Nigel Beattie and I hope to be as well prepared as possible come June."

Rider Liaison Officer and former TT winner Richard 'Milky' Quayle commented:

"Conor isn't a rider we have actively recruited for the TT, but we are delighted that he has decided to compete. It his own decision to take part, and he has our full support and backing. I know Conor well and know that he is a sensible lad, with a lot of natural ability and I believe that his style will suit the TT Circuit. His circuit knowledge is obviously very good, and he has a good set up to be making his debut with, and I am sure he will give a good account of himself and go on to be a formidable TT rider in the future."

Minister for Tourism and Leisure and Chairman of the TT Co-Ordinating Committee David Cretney MHK added:

"Conor Cummins entering the TT is an exciting if unexpected move, but he since I have known him he has shown high levels of maturity and riding ability, and I am positive that he has everything he needs to be a great TT rider of the future. With the excellent advice being offered to Conor by Milky and others, he will be as well prepared as any newcomer taking to the Mountain Circuit for the first time and I look forward seeing him in action this June."