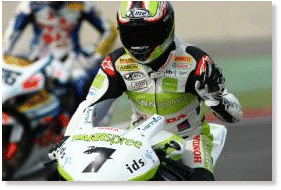 Sepang (Malaysia), 12 February 2005 –

Carlos Checa was hard at work today at Sepang as he concentrated on set-up work for the rear of his Ducati Desmosedici.

After completing back-to-back testing with both the GP5 machines at his disposal, Carlos focussed on getting the best out of the new rear tyre compounds. These tyres proved to offer considerable duration, and enabled the Spanish rider to lap constantly in the low 2m02s bracket.

Checa ended the day after a total of 52 laps, the best being 2m01.891s."We did a good job today" commented Carlos. "We concentrated on tyre duration and found several interesting solutions. Hopefully we can continue to work in the same way tomorrow".

The Tyre Test Team concluded its third day of testing at the Malaysian circuit with an excellent time of 2m02.551s recorded by tester Shinichi Itoh, who completed 56 laps of the track. The Japanese rider tested several new generation tyres, which will be given to the Ducati Marlboro Team riders tomorrow.

The heat and humidity of Malaysia (32° air/55° track) did not do any favours to Loris Capirossi, who was kept out of the action by a high fever and flu, but who is determined to get back on the track tomorrow to offer his contribution to the development of the Desmosedici GP5. Loris, who returned to the pits after just 10 laps, was however able to set an encouraging time of 2m02.291s."It just wasn't my day today" declared Capirossi. "Considering my condition, I actually lapped quite well, but I had quite a high temperature and it prevented me from being able to test. It was better to rest today and try to recover for tomorrow".

Loris Capirossi, Carlos Checa and Shinichi Itoh will be on the track tomorrow Sunday 13 February for a third day of testing at Sepang.