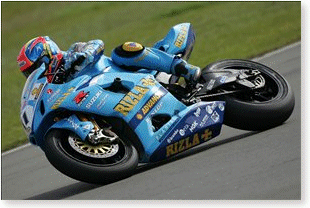 Both riders experienced traffic congestion on their fast qualifying laps around the 2.5-mile long Derbyshire circuit but still recorded their quickest times right at the end of the day. Ducati's Gregorio Lavilla took pole position.

The weather forecast for tomorrow is wet and all of the sessions so far have been held in the dry. If the races tomorrow are declared wet to start with then the riders will be allowed two sighting laps to accustom themselves to the different track conditions. Superbike racing starts at 11:55 on Sunday, April 9th. You can watch all of the action from 14:05 on ITV1 or 20:00 on Sky Sports 2 on the same day.

James:
"We had to go backwards to go forwards today. In the practice session we tried some changes to the suspension to give more feel from the front end of the bike but it had the opposite effect. In the afternoon we reverted to yesterday's settings with some minor changes and the bike was much better.

"I was held up in qualifying but still managed to get on to the second row. We'll try a couple of changes in warm up in the morning and hopefully that will help us improve further."

Shakey:
"To be blunt I am furious I didn't get to complete an uninterrupted qualifying lap. No matter what I tried or how big a gap I had in front of me I ended up catching someone who held me up.

"The head of the third row gives me a good line into the first corner so I'll make the most of that. My pace on race rubber is quick and if I can get a good start then I have a chance to try and follow the leaders and see what I can do from there."

Niall Mackenzie, Race Operations Manager:
"Both riders were held up in qualifying and their starting positions don't reflect how competitive they are on race tyres. Shane was third fastest in morning practice and has a strong race set-up. If he gets a decent start he can challenge towards the front.

"James has changed a lot more on his bike than Shane and has now found a setting that is giving him more confidence. His pace is good and we plan to make a few minor changes to his set-up in the morning. If he can get away with the leaders he too could be a contender for a top positon."

Qualifying Positions: 1: Gregorio Lavilla (Ducati) 1:31.542, 2: Karl Harris (Honda) 0.539, 3: Leon Haslam (Ducati) +0.747, 4: Michael Rutter (Honda) +0.809, 5: Ryuichi Kiyonari (Honda) +0.811, 6: Jonathan Rea (Honda) +0.889, 7: Michael Laverty (Honda) +0.954, 8: JAMES HAYDON (RIZLA SUZUKI) +1.113, 9: SHANE BYRNE (RIZLA SUZUKI) +1.152, 10: Craig Coxhell (Kawasaki) +1.637.