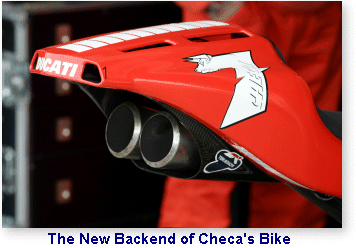 Phillip Island (Australia), 18 February 2005.

Cloudy weather but ideal temperatures (28° air/33° track) greeted the Ducati Marlboro Team riders at the Phillip Island circuit, where the pace of the third winter testing session is starting to heat up.After his harmless crash yesterday, Carlos Checa set a cracking pace today, recording the second quickest time of the day in 1m29.94s. Checa's time was lower than the pole mark recorded a few months ago by Sete Gibernau, and it was set with a new profile rear race tyre.

During his 80 laps today, Carlos also carried out suspension set-up work on his Desmosedici GP5; he also made several outings with the modified frame, receiving similar impressions to when he tested the traditional frame, and working on different front forks set-up.

"Today we again worked well and I am really happy" said Checa. "This morning we carried out a lot of testing on the suspension set-up and in the afternoon I tested several different rear tyres, some of which gave really good results".

Loris Capirossi carried out numerous back-to-back tests during his 74 laps of the track, the Italian's best time being 1m30.53s. Capirossi lapped with both GP5 bikes at his disposal, one with the same set-up used during the last tests at Sepang and the other in race configuration, with a set-up very similar to the one he used in last season's Australian GP, but Loris preferred the former.

"The back-to-back tests between the two set-ups enabled me to understand a lot of things" commented Loris. "There isn't much difference between the times and I am not particularly worried about not being at the top of the timesheets at the moment".

The Desmosedici GP5 development and the Bridgestone tyre tests are continuing positively, and despite it being the first time that the new pairing has tested on the ultra-fast and technical Phillip Island track, it is already bringing positive results for the engineers of the two companies.

The Ducati Marlboro Team will conclude testing at Phillip Island tomorrow Saturday 19 February, before moving to Doha in Qatar from March 1-3, the final session before the official IRTA testing sessions at Catalunya (March 18-20) and Jerez (March 25-27).