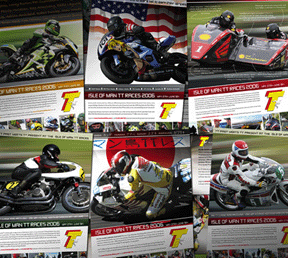 Fans of the Isle of Man TT races and motorcycle racing will have already noticed many positive changes the TT has recently undergone. Improvements in marshalling, circuit safety and rider recruitment is fast propelling the world famous event towards a bright new future.

In turn, advertising for the event along with other promotions has also undergone a recent revamp and readers of many motorcycle-racing publications will already have spotted the eye-catching adverts for this year's festival.

The adverts have been designed by Manx artist and designer Peter Jones. Peter has an impressive and varied CV that includes animation for TV, artwork for famous celebrities and graphics projects for many of Britain's biggest high street names. As a lifelong TT fan, Peter jumped at the chance to work with the TT organisers.

Peter, who studied Illustration in Bristol, has designed a whole series of the eye-catching adverts, all of which are unique, changing each issue and even between publications. Each of the adverts also contains a number of previously unpublished photographs by Peter and award winning photographers Stephen Davison and Allan Brown.

Speaking of his contribution, Peter said:

"I am delighted to be a part of the TTís future success. The Department of Tourism and Leisure are working extremely hard and we will see more and more positive steps taken over the next year and beyond. I have absolutely no doubt the TT is going places and the ongoing advertising campaign is an increasingly integral part of getting this message across. There is just so much to say about the TT, itís impossible to do it all in just one advert. The TT remains the worldís greatest test of any motorcycle and rider, and the festival provides entertainment and spectacle for every bike fanatic. So far we have run adverts covering some of the top newcomers and the continued involvement of the big manufacturers and top teams. We have also produced specials on the classic events, the sidecar races and a focus on the Irish contenders. And thatís just the start!"

Minister for the Department of Tourism and Leisure David Cretney added

"We have had some great feedback on Peterís work from all corners of the globe and the adverts have caused quite a stir with some of the publications we are using. One of the adverts with a Japanese theme has even reached Japan where top rider Jun Meada and his team intend to re-publish it. Very few events can boast such a presence in the media, and this reflects the stature of the TT races."

The campaign is set to continue with news of brand new festival events and previews of next yearís much-anticipated Centenary.