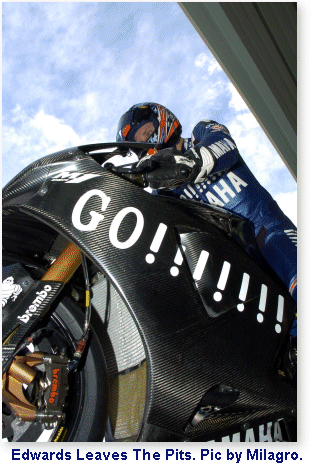 Phillip Island, Australia. Friday, February 18, 2005



The riders both completed a long run of the Victoria circuit, as well as continuing with yet more important tyre testing for Michelin and working on small set-up changes. Teams from Yamaha, Honda, Ducati and Suzuki were out on the track alongside the Yamaha Factory Team riders, although Japanese Honda rider Makoto Tamada was unable to test due to minor injuries sustained in a crash yesterday.



Rossi rode 91 laps over the course of the day, although he was the victim of an unfortunate incident when he hit a bird as he exited pit lane. Despite this, he consistently completed laps in the 1.30s and finished the day fourth fastest with a best time of 1.30.22 – equal to the qualifying time he set at last year's Australian Grand Prix. His American team-mate Colin Edwards, who finished fourth at the race here last October, completed 78 laps with a best time of 1.30.60, just a fraction of a second faster than his final qualifying time for the same race. Three riders were faster than Rossi on the track today and completed laps under the 1.30 mark; Sete Gibernau (Honda, 1.29.85), Carlos Checa (Ducati, 1.29.94) and Max Biaggi (Honda, 1.29.97).



Valentino Rossi (1.30.22, 91 laps)

"I hit a bird as I was exiting the pit lane today and it went into my airbox; it fell out half way round the track and when I returned to the pit garage there were just some feathers left. I'd just like to say that I'm very sorry for the bird! We did a lot more tyre work today and also a long run, which I was quite happy with. I did some fast laps and it was an improvement on the race last October. We still need to make some changes to the chassis setting, as there's something not quite perfect at the moment; tomorrow we will concentrate on this. Some other riders have managed to be very fast today with laps under 1.30; I didn't manage this, but maybe if we can make some small improvements tomorrow I might be able to. We will see! Many people are talking about the news that the Grand Prix in Rio has been cancelled this year, and I'm sorry not to be able to go back there because I didn't finish the race there last year, and it would have been good to have ended it on a high note."



Colin Edwards (1.30.60, 78 laps)

"We continued working on bike set-up and we've found some really good improvements and solutions to some of our problems. We'll continue to check these tomorrow. I did a long run today and we also did more tyre testing; I think we've done a really good job with Michelin during these tests. Tomorrow we'll work to complete what we've started and hopefully we'll be able to leave on a positive note. I'm looking forward to a bit of a rest before the next test!"



Davide Brivio, Gauloises Yamaha Team Director

"Today the riders both did a long run and many laps throughout the day. We did a lot more work for Michelin, which is really important at the moment. Tomorrow we will conclude our activities for this test and we are pleased with what we have done so far. However it will be good to come back again in just over two weeks to continue our pre-season work."