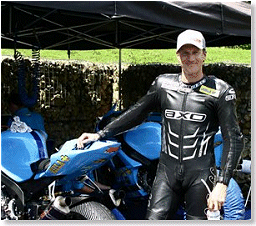 Rains limited track time for Neil Hodgson and Eric Bostrom as they tested at the 2.238 mile (3.6 kilometer) Laguna Seca circuit, but both riders were able to spend most of Wednesday at the controls of their Ducati 999 Superbikes.

Hodgson was one of the few riders to brave the elements on Tuesday but managed just six laps as the rains fell. Neil's best time on Wednesday was an impressive 1:26.42 lap. "We achieved what we needed to get done in a short space, essentially about half a day of track time," said the former World Superbike champion. "It was a positive test and we learned a lot about the motorcycle. It already feels much like my 'old' bike I used to win the World Championship. It's going really, really well at the moment "

Hodgson previously raced at Laguna Seca in his World Superbike days and said the familiarity with the track helped him at the test. "You need to test at a track you know. You could spend all day learning a new circuit but I know what a bike needs to do from my years racing here. Testing is all about finding your strengths and your weakest areas and we were able to do that."

The Laguna Seca test was the final preseason trial for the Parts Unlimited Ducati Austin team. "The first race at Daytona is somewhat of a different animal compared to the other tracks, but we'll be ready," said the Isle of Man resident.

Bostrom did not ride in the wet on Tuesday but was able to lap his Ducati 999 Superbike on Wednesday. He turned in his best time in the high 1:27 range just as the rains that ended the test began to fall. "In a way, we lucked out to get as much track time as we did," said Bostrom. "I would have liked more. We're still working on getting the balance to get the feeling I need from the bike. It's coming along, though, just a little more slowly than I'd like. We're not quite there yet."

Team manager Tom Bodenbach said the test was productive for Ducati's AMA Superbike squad. "The weather hampered us a bit but we were able to test most of the day on Wednesday. Of course, we would have liked more track time but the team accomplished some goals and we're looking forward to kicking off the season."



The opening round of the season at the famed Daytona International Speedway is scheduled for March 10-13.