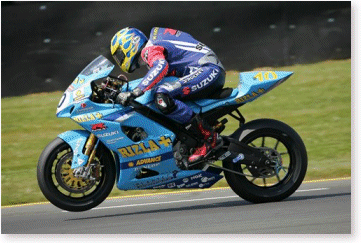 Shakey ran straight on at the end of the kilometer long Revett straight early in the session and crashed at 187mph. He lost consciousness but came round soon after. He was taken to Norfolk and Norwich hospital for further examination before being released an hour later. He suffered no broken bones but as he was unconscious, under medical rules he will now be banned from riding for eight days, ruling him out of Sunday's races. The cause of the crash is still under investigation.

Kirkham, 21, from Ockbrook in Derby, took Shakey's spare bike to the track for the afternoon session and finished a creditable 16th. He usually rides a private Suzuki in the Superbike class and is delighted to have the chance on the Rizla Suzuki.

James Haydon finished 13th despite riding with a painful shoulder injury sustained at the previous round at Mallory Park a fortnight ago. He showed grit and determination to take to the track and is looking forward to improving his position tomorrow. Honda's Ryuichi Kiyonari was fastest.

Superbike racing starts at 13:15 on Sunday, June 18th at the popular 1.95-mile long Snetterton circuit in Norfolk. The round will be televised on satellite channel Men and Motors at 15:00. ITV1's 90-minute long coverage moves to Saturday 24 June while Sky Sports 1 will show the action from 22:30 on race day.

James Haydon:
"My left shoulder is still quite painful after the crash at Mallory Park two weeks ago. It is heavily strapped and I am undergoing extensive physiotherapy at the track but I still don't have full movement or strength in it yet. Cornering is where it's proving toughest as the shoulder has to work particularly hard when turning the bike in and out of the chicanes.

"It was tough riding today but I think it will get easier tomorrow and for sure the bike is quick enough on the straights. I hope to be competitive for the races on Sunday."

Jon Kirkham:
"The Rizla Suzuki feels awesome compared to my own bike. The handlebars, seat and general settings are different to what I normally run but it still feels great.

"I tried a soft tyre at the end of the session and was on my fastest lap when I had a moment at the final chicane. I was gutted; I think it would have been a decent lap. The bike was set up for Shakey so the team will change it to suit me in time for tomorrow's third free practice session. I'm looking forward to seeing what we can achieve."

Niall Mackenzie, Race Operations Manager:
"Shakey's crash was a complete mystery. We are investigating it now but it looks like he ran on at the end of the straight at high speed and suffered a particularly fast crash. We are all thankful that apart from bruising and concussion he has not broken any bones and should hopefully make a quick recovery.

"James amazes me with his determination and will to ride. He is sporting an injury that would floor most other riders yet he is out there giving it his all. He spent today bedding himself in and finding a comfortable setting on his GSX-R1000 and given his injury I'm sure he feels there is more to come.

"Jon Kirkham has done a good solid job in just one session. He was quick considering the limited time he has had to acquaint himself with the bike. We will change the setup to suit him for tomorrow and that should help improve his lap times."

Practice Times: 1: Ryuichi Kiyonari (Honda) 1:04.844 2: Leon Haslam (Ducati) +0.096, 3: Gregorio Lavilla (Ducati) +0.393, 4: Jonathan Rea (Honda) +0.505, 5: Karl Harris (Honda) +0.527, 6: Tommy Hill (Yamaha) +0.602, 7: Michael Laverty (Honda) +0.990, 8: Michael Rutter (Honda) +1.026, 9: Billy McConnell (Yamaha) +1.037, 10: Simon Andrews (Yamaha) +1.069, 13: JAMES HAYDON (RIZLA SUZUKI) +1.329, 16: JON KIRKHAM (RIZLA SUZUKI) +1.589.