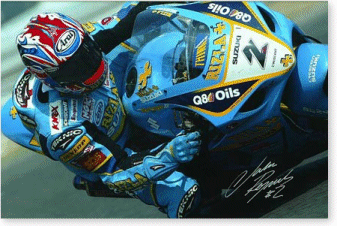 Speaking from his hospital bed at the Queens Medical Centre in Nottingham, JR was in high spirits and thinking only of getting back on his Rizla Suzuki GSX-R1000K5. He broke his right leg in a testing accident at Valencia in Spain last Friday and had a pin inserted as an internal splint on Monday.

JR said: "There is no question in my mind, I want to be racing again as soon as possible.

"I've had hard knocks before and I've come back stronger and more determined to race and win. If anything, this injury is motivating me more than ever to get back to racing.

"I have a title to defend and will do absolutely everything the doctors tell me to do to ensure I heal as fast as possible. Thanks again to everyone for their support and confidence in me, it really helps."

Dr David Hahn, Consulting Orthopaedic Surgeon at the Queens Medical Centre, has been treating JR. He said: "An operation was carried out on John Reynolds on Monday afternoon following his return from the General Hospital in Valencia in Spain.

"John had a multiple fracture of the right tibia approximately five centimetres above the ankle, as well as a broken fibula. Given the nature of the injury, a pin was inserted into his leg to act as an internal splint. The surgery went well and he is in good spirits. The progress he makes over the next three to four weeks will be very important in determining his overall recovery time.

"Assuming there are no complications arising from the procedure, it is likely that John will be discharged from hospital within the end of this week. We hope to mobilise him on crutches as soon as possible and assist him not only in regaining use of the leg, but also his overall fitness to allow a successful return to racing at the earliest possible opportunity."

Rizla Suzuki continues to develop the GSX-R1000K5 at its HQ at the Crescent Performance Centre in Verwood, Dorset. Racer Scott Smart is preparing to test the bike again at Donington Park on March 13th and Brands Hatch on March 15th. The British Superbike season starts at Brands Hatch on Bank Holiday Monday, March 28th.