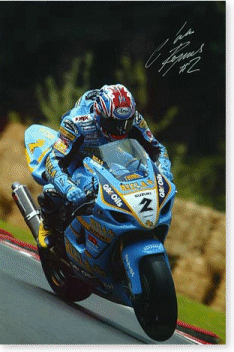 On Monday, British Superbike Champion JR had a pin inserted into his right leg that has a multiple fracture of the tibia and single break of the fibula. His healing progress in hospital has been impressive and his doctors sent him home to rest and recuperate in familiar and comfortable surroundings.

With a new cast on his injured leg that allows more movement, JR is delighted to be home with his wife Shelley and son Ben. He is also happy for his 2004 Rizla Suzuki team mate Yukio Kagayama, who has qualified on the front row for the opening World Superbike race of the season.

"It is fantastic to be back home," explained JR. "In the hospital I was getting the very best of treatment, but you can't beat your own home when it comes to relaxing and comfort.

"And today has brought more good news on the GSX-R1000K5, with Yuki putting it fourth and on the front row of the grid at Qatar in Superpole for the first WSB race. I'll be cheering him on from the sofa tomorrow - it's great that my '04 Rizla Suzuki team mate is making a splash on the world scene, I know he has the talent to go a long way.

"Well done to Troy Corser on the other Suzuki GSX-R1000K5 getting second on the grid. The potential of the GSX-R is there for everyone to see and this reinforces my very positive feelings from my time testing the bike. I can't wait to get back racing my Rizla Suzuki."

Rizla Suzuki is continuing to develop the GSX-R1000K5 at its HQ at the Crescent Performance Centre in Verwood, Dorset. JR's team mate Scott Smart is preparing to test the bike again at Donington Park on March 13th and Brands Hatch on March 15th. The British Superbike season starts at Brands Hatch on Bank Holiday Monday, March 28th.