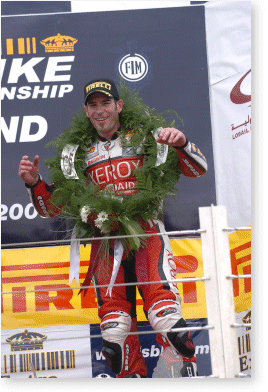 RACE 1: Laconi finished runner-up in both parts of race 1, which was interrupted for rain just after half distance. The Frenchman was then unable to make up the deficit to part 2 leader Kagayama and eventual winner Corser and had to settle for the final podium slot. "I made a so-so start and just tried to pass the guys in front of me immediately because I was fourth on the first lap. It feels tough to finish second in both races and end up third overall but those are the regulations and I am just happy to be on the podium".

Toseland started from thirteenth on the grid but had a particularly good final few laps to finish in sixth position. "I got two good starts and we hung in there. I was two-tenths off getting fifth in the aggregate but considering everything that's happened this week, it's a solid start. The confidence is coming again, I needed some dry time and I can only get that in the races".

RACE 2: Laconi took 10 laps to get past Corser into second place, but he was unable to do anything about Kagayama, who claimed his maiden World Superbike win. "I tried to catch Yukio in the final laps but it wasn't easy and when I saw it was easy to slide I told myself to just ride and settle for second and that's what I did. I did the best that I could do today and it was important for me to start the championship with two results, unlike last year, and get my season off to a good start".

Toseland was caught up in a seven-rider battle for fourth place for much of the race, but he eventually passed Pitt, Abe (Yamaha) and Neukirchner (Honda) to clinch his second sixth place finish of the day in a photo-finish with Chili. "Two sixths from thirteenth place is OK, as far as the championship goes I'm joint fifth, which is not what I wanted but at least it's solid. Towards the end of the race I was lapping as quick as the leaders. After Sunday's crash I needed some dry time and I just didn't get it. We haven't been able to try everything we wanted and that made the whole weekend difficult for me. I'm disappointed but I know I could have been out for a couple of rounds with last week's crash, so I'll take these results any day".

RESULTS RACE 1: 1. Corser (Suzuki); 2. Kagayama (Suzuki); 3. Laconi (Ducati Xerox); 4. Pitt (Yamaha); 5. Haga (Yamaha); 6. Toseland (Ducati Xerox); etc.

RACE 2 : 1 Kagayama ; 2. Laconi ; 3. Corser; 4. Vermeulen (Honda); 5. Chili (Honda); 6. Toseland; etc.

POINTS (after 1 of 12 rounds) : (Riders) Kagayama 45, Corser 41, Laconi 36, Vermeulen 21, Pitt & Toseland 20, etc.

(Manufacturers) Suzuki 50, Ducati 36, Yamaha 22, Honda 21, Kawasaki 7, Petronas 1.