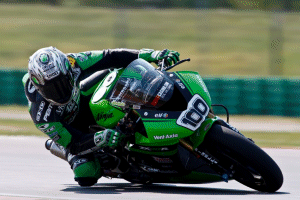 Tamada used the latest Michelin race tyres to set a lap time of 1m 57.69s, an incredible three seconds faster than his qualifying time for the Qatar GP held in October 2004.

American Nicky Hayden has also hit a rich vein of form in recent tests and he carried it over into today. The Repsol Honda factory team rider has quickly found his way with the 2005 specification Honda RC211V and is in a confident mood.

Hayden tested transmission developments and a new Michelin front race tyre while setting his best time of the day. He was just one tenth of a second slower than Tamada.

His team-mate Max Biaggi had a better day today than on the opening day of the test. The Italian experimented with the geometry of his Honda RC211V and different suspension setting and immediately felt more comfortable on the Repsol machine. He goes into the final day of the test with renewed confidence.

Camel Honda riders Alex Barros and Troy Bayliss hardly did 50-laps between them – dividing their day between testing and a team photo shoot. However, in the short time they were running, they achieved the objectives they set themselves for the day.

Bayliss who was particularly happy with both his performance and perseverance, slashed over two seconds off his best time of yesterday.

Makoto Tamada, Konica Minolta Honda: 1m 57.69s – 60 laps.

"I'm very happy because we understand day after day that our situation is getting better and better, and the lap times we have achieved today are the proof of our evolution."

"Today, I have achieved a lap time more than three seconds faster than the time I obtained during the past season qualifying sessions. This makes me even happier as I think we'll be able to reach a higher level of competitiveness before the beginning of the championship."

"Also, my physical conditions are getting better. I have almost fully recovered from the hard hit that I suffered during the slip on the Phillip Island circuit and today I was able to work all day without any sort of problem."

Giulio Bernardelle – Konica Minolta Honda Technical Director.

"This morning we finished the first part of the work done yesterday on the bike's frame and suspensions, and in the middle part of the day, we tested new front and rear tyres provided by Michelin. The impression we have after trying this new racing tyres, is that they are much better compared to the ones we used during the first winter test."

"I have to thank my team because we are working only on one bike after the crash in Australia, and they are working with a lot of enthusiasm to make all the changes on one bike as quickly as possible to be able to try different solutions from lap to lap."

Nicky Hayden, Repsol Honda: 1m 57.78s – 78 laps.

"We knocked a bit more off yesterday's time which was satisfying. We made some changes in the transmission and we used a different front tyre compound which increased grip and confidence levels a little."

"The track definitely has more grip than yesterday but its still pretty windy around here. We have a few new parts to test for the bike – some of which seem to be working well. It all seems to be going in the right direction though."

Max Biaggi, Repsol Honda: 1m 57.79s – 71 laps.

"We did much better today. We tried a different set-up with different geometry and different suspension settings and the feeling was immediately better. We are still trying to improve the handling and it's coming better. I trust everyone around me and we are all working hard for the best results."

"However, we still have quite a lot of work to do on the front with tyres from Michelin and some adjustment from the Showa guys. Tomorrow we hope to complete a full race simulation."

Sete Gibernau, Telefonica MoviStar Honda: 1m 58.66s – 40 laps.

"I only did a few laps to test some solutions for HRC and some tyre testing. Unfortunately I'm still suffering from a fever and I couldn't give the indications I wanted I prefer to wait tomorrow morning. I hope to feel better because we still have a lot of work to do."

Marco Melandri, Telefonica MoviStar Honda: 1m 57 948s – 58 laps.

"I'm very happy with today's test session. We worked a lot with tyres and made some small modifications at the set up. I have found a good feeling with the bike and already this morning I improved my rhythm, lapping in low 1m.58. I think that I have made here a step forward both in my riding style and approach to tests."

"What I like of my bike is that the Honda RC211V doesn't need many modifications from one track to another so I have time to understand the bike and adapt my riding style. Tomorrow, at the third and last day of test here in Qatar, I'd like to make a long run."

Alex Barros, Camel Honda: 1m 57.80s – 26 laps.

"We got through twenty-six laps today, so we're still short of what's needed to get the set-up right. More than anything we tested new tyres, four fronts to be exact, before we stopped for the photo shoot. However, in the next two days, we will focus entirely on the set-up of the bike."

Troy Bayliss, Camel Honda: 1m 58.55s – 25 laps.

"We didn't ride too much today either, but nonetheless I'm very happy. In those few laps, I was able to improve my time considerably from yesterday's, taking over two seconds off it."

"I can see the improvements coming and we've found a good direction. Tomorrow and Friday we will be able to make the most of all the time left and we will be able to work on the data we've picked up today."