Author: Rizla Suzuki Press Release
Posted on: Friday, Mar 04 2005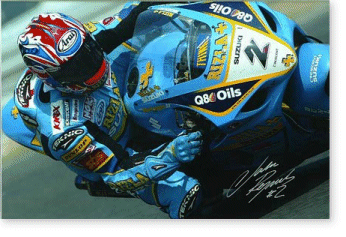 He will return in two weeks time for a detailed X-ray of his right leg that was broken in a testing accident at Valencia in Spain on February 18th.

JR said: "It is possible that I could race at the opening round at Brands Hatch but it all depends on how my bones are healing. We will find out for sure when the doctor reviews the X-ray in two weeks time.

"I am doing everything I can to heal by following my doctor's advice, eating the right foods and resting. I am absolutely determined to race again as soon as possible and defend my title - I am willing myself to heal and hope that is helping!

"My Rizla Suzuki team mates are keeping me in the loop on the GSX-R1000K5 development and it sounds great. We have everything we need now and the technicians are excited by what they are seeing on the dyno. My mouth is watering just thinking about riding again.

"Well done to my former team mate Yuki for leading the World Superbike Championship. I watched both Qatar races last weekend and was proud of him - and more than a little encouraged by the dominance of the GSX-R! He called me to ask about my leg this week as he is visiting the Rizla Suzuki HQ in Dorset and I can report he is still as mad as a kettle of fish."

Rizla Suzuki racer Scott Smart will be riding the latest version of the GSX-R1000K5 at Donington Park on March 13th before going to Brands Hatch on March 15th for more tests. The British Superbike Championship starts on Bank Holiday Monday, March 28th, at the Brands Hatch Indy circuit in Kent.