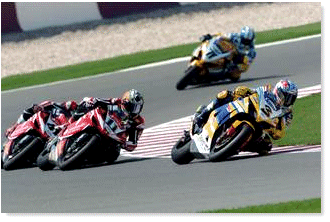 Although team mate Yukio Kagayama had a bit of a disappointing - by his high standards - start to the season, he still scored a good number of points and is more determined then ever to bag a pair of good results in Phillip Island.

MAX BIAGGI:

"Last week was unbelievable and very emotional. It was a dream start to the series for me and I will always remember it. I enjoyed the racing much more than I had believed possible and wish I had discovered this series years ago. But now we're into the second race and I'm really looking forward to it. Like Qatar, Phillip Island is another circuit I've raced at before, so I will be expecting a good result. Last week my main opponent was James Toseland, but at Phillip Island I think there will be more riders going for the wins. I expect the competition to be tougher but I aim to be right up with them at the end of both races."

YUKIO KAGAYAMA:

"Not so good last weekend but at least I didn't crash! I had some problems with my tyres and could not push as hard as I wanted. Phillip Island circuit is a track many riders like and it's good for the fans also. I hope to put my problems behind me and really attack the circuit. It is a fast, flowing circuit with many high speed turns - my kind of circuit! But you must know exactly what you are doing if you want to put in fast laps and that's what makes riding it so enjoyable. My aim, as always, is to get two podiums."