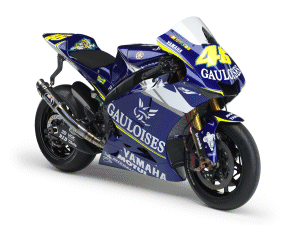 Valentino Rossi, now in his second season as a Yamaha rider, talked about his year so far and his goals for the forthcoming season. "We have done a lot of test runs during the off-season. Things aren't quite 100% yet, but the machine and the engine are already much better than last year. It's nice to see the M1 in its final 2005 livery. I hope I can win the title again this year on this new bike, but winning is never easy! I was very happy to win nine rounds in last year's Championship and I think that is a good target for this year too. I hope everyone will be cheering for me!"


Rossi's new team-mate Colin Edwards, who recently turned 31, spoke about his return to Yamaha after a seven-year absence. "I was last with Yamaha in the 1998 season in the World Superbike Championship and I am very happy to be back. I saw how good the team and machine were last year, so I was excited when I got the offer to come back to the Yamaha side. I am also glad that there will be a US round at Laguna Seca this year for the first time in a while. I hope to have a bit of an advantage there, but I will be giving my best shot in all the races."



Team Director Davide Brivio, who enters his fourth season as the Yamaha Factory Team Director, commented on the new bike and the task facing the riders. "We're very pleased with the look and design of the new bike, as well as with its performance so far during testing. This is going to be a very exciting season and a big challenge for both riders. After this we are flying directly to Phillip Island for our fourth test of the year and we hope to continue the good work we've been doing so far with the development of this new bike, with the aim of having it ready for the first race in a month's time."



Senior Managing Director of Yamaha Motor Company Tsuneji Togami, Senior General Manager Masao Furusawa and Shigeto Kitagawa, head of the Engineering Department in charge of developing the 2005 YZR-M1, were three of the Yamaha Motor Company representatives present at today's Japanese event.



Mr Togami launched the press conference by stressing the importance of Yamaha's race activities for fulfilling Yamaha's corporate mission of "We create Kando – Touching your heart", saying, "Through our motorcycle racing activities we want to stimulate the motorcycle racing scene, to bring motor sports closer to people and to help raise the next generation of people who will lead these sports into the future."



Mr. Kitagawa then highlighted the four key goals of the YZR-M1 development project in 2005 as improving the balance of the machine's handling stability, boosting acceleration performance and top speed, balancing high power with fuel economy, and making the machine more robust in terms of its adaptability to different track conditions. "Besides winning a second consecutive rider title," he commented, "We also intend to go for the manufacturer's title with the new M1."



Valentino Rossi and Colin Edwards now fly directly to Phillip Island, Australia for a final three days of testing from 9th-11th March, before returning to Europe next week for the first of the two official IRTA tests in Barcelona.