STEVE PLATER IN THE POINTS AT BRANDS HATCH
Author: Helen Pask
Posted on: Tuesday, Apr 10 2007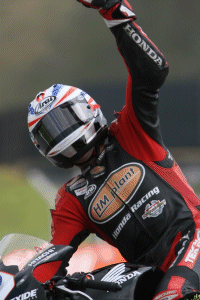 "My lap times improved by one and a half seconds from first free practise to final qualifying but I still was only able to finish in 26th place for a seventh row start," said Steve. 26th is definitely not where I wanted to be but we are struggling a bit at the moment and although we have been able to move forward in various areas it hasn't shown on the stop watch. It has been a bit frustrating really as we really needed some serious testing time but the bikes were late arriving from Yamaha and we just ran out of time. We are just having to plug away here at Brands this weekend making further adjustments each time we go out on track."



As the opening race of the new season got underway Steve made steady headway to eventually take the chequered flag in 18th position.



"I shaved a further half a second from my qualifying times in that race so we are making progress," said Steve.



Race two saw the Woodhall Spa rider get away to a better start and he quickly moved into the top twenty. His progress was stalled when the safety car took to the track but it worked in his favour as he was able to make ground on the riders ahead and when the car left the track Steve was poised to make a further move forward. He passed Aaron Zanotti on lap 18 and continued to make progress to 14th place when the red flag brought the race to an early end with two laps remaining.



"Although I finished further up the field that time my lap times didn't improve. We move on to Thruxton now and will again be using the track time as a test to further develop the bike."



With less than a week between Brands and the next round at Thruxton there is little time for Steve to catch his breath. The weekend begins with two free practise sessions on Friday followed by a further free session on Saturday morning. Qualifying is set for 2.40pm prior to racing on Sunday with the first Superbike race on track at 1pm and race two at 3.25pm.


Pic by Helen Pask.