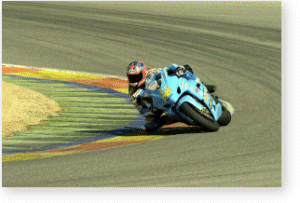 The 28-year-old Londoner who now lives in York is focused on getting ready for the start of the racing season at Brands Hatch in just over a fortnight.

Scott said: "I am excited about riding again. After Valencia I left my Chief Technician, Norris Farrow, with plenty of changes that I wanted made to my Rizla Suzuki and he and the team have worked through what needs to be done.

"My most important goal is to find a comfortable setting on the bike rather than setting a new lap record. We already know that the team is great and we work well together - so I don't need to concern myself with that. Once I have a comfortable base setting, then we can take it to any circuit and go for outright lap times depending on the individual circuit, weather and other conditions.

"It is a bonus that I now have two bikes with exactly the same settings to test back-to-back. That will make progress twice as fast and allows me to use every minute productively on track.

"JR was overjoyed with the performance of his GSX-R before he crashed at Valencia and his enthusiasm has been reinforced by Yuki and Troy dominating in World Superbikes. I know the Rizla Suzuki is up to the job, but I am still familiarising myself with the machine. I have a personal target that by the end of the upcoming test sessions at Donington and then Brands Hatch, I will have a bike that I am comfortable with and ready to push to the limit in the races - after all, that's when lap records count!"

Scott will be on track at Donington Park, Leicestershire, on Sunday March 13th between 10:20am - 11:20am and 14:45pm - 15:45pm. The test day is open to the public with track action taking place from 9:00am - 17:30pm. Admission is £10 with accompanied children under 15 enjoying free entrance.

Rizla Suzuki then moves to Brands Hatch for its final pre-season test on Tuesday March 15th. The British Superbike season starts at Brands Hatch on Bank Holiday Monday, March 28th.