HEGARTY BROTHERS SECURE NEW OUTFIT
Author: Helen Pask
Posted on: Saturday, Apr 28 2007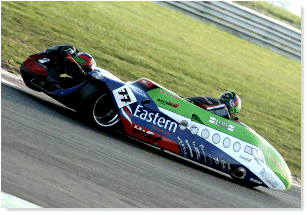 The Felixstowe-based Hegarty duo took in the test at Mallory to see how they adapted to the new bike, which is powered by the latest 2007 GSX-R Suzuki K7 engine and instantly gelled with the outfit.

Eastern Airways team manager/rider and current world champion Tim Reeves said: "We had already said we needed to shave a further 25K from their previous outfit to make Sean and Mark really competitive this year and with the purchase of the new LCR this has been done for us. The outfit weighs a good 25K less than their previous machine so we have achieved what we set out to do. The new LCR Suzuki is like a rocket ship and I am sure we will be seeing Sean and Mark challenging for podium positions in the new campaign."

The new Superside world sidecar championship begins at Schleiz on May 13 followed by the second round of the British series at Knockhill on June 3.

The second round of the World Series is on home tarmac at Brands Hatch where the sidecars are a welcome addition to The Deutsche Tourenwagen Masters (or DTM for short) programme on June 10.

The German touring cars visited the Kent circuit for the first time last year, proving to be extremely popular and with the added attraction of the World Sidecar round a huge crowd is expected to watch the action this time around.



Pic shows Tim Reeves in action on his LCR Suzuki – similar to the new machine of Sean and Mark Hegarty.