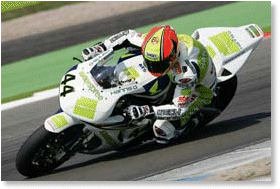 Toseland proved once again that he is a force to be reckoned with in the 2007 series as he set the fastest lap eight times in morning practice and three in the afternoon official session. His immediate fast pace gave the team the chance to concentrate on the race set-up of the CBR1000RR, ensuring that the British rider is more than ready for Sunday's race. His best time stands at 1'39.603.

After a challenging weekend in Valencia, Roberto Rolfo is determined to get his 2007 campaign back on track. He performed well in today's session, but got caught behind a group of slower riders which forced him to settle for fifteenth position. His final best time was 1'41.109.

Ronald ten Kate, Team Manager:

"Today has been a great start for James - he was immediately fast in the free practice so we were able to go straight into working on the race set-up. We have been testing the race tyres, which are sure to be an issue with the high temperatures here this weekend. We are constantly making small improvements to the bike, but generally it is all good for James. Although Roby's position does not show it, it seems he is in contact with the group in front of him once again. He had a traffic problem when we put the soft tyre in and he didn't manage to go any faster so his best lap time was on the racing tyre. I'm sure we can improve tomorrow, so let's see."

James Toseland:

"Today has been a really good day. We were second quickest this morning on the race tyre and I think other riders were using the softer one. Right at the end there I did put that softer tyre in and it worked quite a lot better than the race tyre. I'm pleased with today - we've got a bit of work to do on the set-up to get the bike ready for tomorrow but overall I'm pretty happy."

Roberto Rolfo:

"I am not happy with this session. We did a lot of good work at the beginning and it was ok, but it wasn't so good at the end because there were a lot of slower riders in front of me that I couldn't pass. I was trying to do a 1'40 lap time but I lost it and only managed to fit in one more lap before the end of the session. The session could have gone a lot better. Having said that, I am happy with my progression because I think my race rhythm is not too bad."