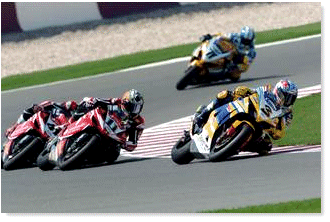 He had been 12th in regular qualifying but the changes he and the team made to the GSX-R1000 engine braking and balance of the bike made the bike more comfortable to ride and he was able to push much harder in Superpole.

His front row grid place means that he will not have to work his way through the field as he did in Valencia and he knows that a good start at the Dutch circuit is vital for tomorrow's pair of 22-lap races.

His team mate Yukio Kagayama also struggled in normal qualifying, partly due to the fact that he is working on the development of a completely different ignition system. He just scraped in to the 16-rider Superpole shoot-out after final qualifying, but then the improvements made to the Magneti Marelli system allowed him to push much harder in the untimed afternoon session and Superpole.

Series leader James Toseland (Honda) was fastest with Lorenzo Lanzi (Ducati) second and Troy Bayliss (Ducati) third.

Max Biaggi - 4th, 1:39.320:

"We had some problems during the first three sessions and we did a lot of work to get the engine braking and the balance of the bike right. The machine is not perfect yet, and it is better in some parts of the track than others, but at least I am finding it easier to ride than I did yesterday. Also, Superpole is still a relatively new thing for me and I think I am beginning to understand how to attack it better. Of course, the level of grip is so much different on a Superpole lap to when you are on race tyres and that's another thing to understand. It shows that, on race rubber, we have to try and get more traction. It felt a bit strange sitting around in the pits watching another 11 riders go out and try and beat my lap time.

"In Superpole anything can happen - just look at Haga today and Corser at Donington. Having now ridden on this new Assen layout, I can say that I prefer the 'old' Assen track: That was a real challenge and it had a lot of very high-speed turns, so it was great fun to ride. The new design has slowed us up and it's difficult to use full power. Now it's important to have a well-balanced bike, with good throttle response. I'm happy to be on the front row, because this is not an easy track for overtaking and you certainly do not want to get held up at the start."

Yukio Kagayama - 1:39.928:

"My Superpole lap was so-so because I made a few little mistakes, but considering I had only just managed to get into Superpole after normal qualifying, to get on the second row of the grid is good and that makes me a happy. This afternoon was so much better than Friday. We made some changes to the settings and improved the bike; the grip level is now better and I have a better feel for what is going on, but it is not enough.

"I am working a lot on developing another ignition system and, like all things at the start, there have been many things to work on and try and improve. But I think this system has good potential and each time out we learn something more. Sometimes this kind of situation can be a bit frustrating, but this is part of my job and I want to do it well. Tomorrow I am hoping that I can get a good pair of starts and follow with good results."

Final WSB Qualifying: 1 Toseland (GB-Honda) 1:38.603, 2 Lanzi (I-Ducati) 1:39.226, 3 Bayliss (Aus-Ducati) 1:39.256, 4 Max Biaggi (I-Alstare Suzuki Corona Extra) 1:39.320, 5 Xaus (E-Ducati) 1:39.411, 6 Corser (Aus-Yamaha) 1:39.422, 7 Neukirchner (D-Suzuki) 1:39.648, 8 Yukio Kagayama (J-Alstare Suzuki Corona Extra) 1:39.928, 9 Muggeridge (Aus-Honda) 1:40.057, 10 Nieto (E-Kawasaki) 1:40.288.

SUPERSTOCK 1000:

Team Alstare Suzuki Corona Extra rider Xavi Simeon qualified 10th for tomorrow's Superstock 1000 FIM Cup race and knows he will have a lot of work to do if he is to finish with a good result.

Simeon experienced almost a usual problem for him this season - an inability to put in a sure-fire quick lap in qualifying and so get a good grid position. In the race, he laps consistently fast, but trying for a quick lap in qualifying is eluding him at present.

Claudio Corti (Yamaha) set the quickest lap of the day with Didier Van Keymeulen (Yamaha) second and Michele Pirro (Yamaha) third.

Xavi Simeon - 10th, 1: 43.953:

"I am disappointed because I really wanted to qualify higher and not have to work my way through the field to chase a good result again. During the race, I seem to be fast enough and there are no big problems, but in qualifying I have yet to set a super-fast lap when I want to. Sometimes it has been down to traffic on the track and sometimes I think it's just down to me. I am still learning about this bike and maybe I need more time to understand it better, especially when I am trying to do a quick lap. It's a little frustrating at the moment because I know I should be quite a bit better. Also, this championship is particularly strong this year, so any mistake is punished heavily. I am confident I can make a good result tomorrow as long as I can get a good start. That's what I am hoping for and I will try my hardest as usual."

Final Superstock 1000 Qualifying: 2 Corti (I-Yamaha) 1:42.773, 2 Van Keymeulen (B-Yamaha) 1:43.009, 3 Pirro (I-Yamaha) 1:43.096, 4 Badovini (I-MV) 1:43.192, 5 Baiocco (I-Yamaha) 1:43.208, 6 Roberts (Aus-Ducati) 1:43.463. 10 Xavi Simeon (B-Alstare Suzuki Corona Extra) 1:43.953.