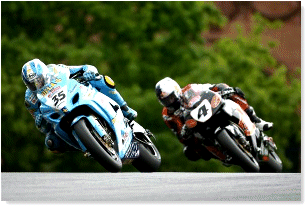 Cal, starting on the second row of the grid, was in contention with the leaders for much of the 17-lap race. He eventually matched his season's best result of seventh, but crucially was under 10-seconds behind the winner, demonstrating a marked improvement in his pace. In the second race he was in eighth when he was forced to retire on lap 12.


Chris Walker, starting from 13th on the grid, crashed unhurt out of the opening race at the chicane. In the second race at the 2.69-mile long Cheshire track, he finished ninth, well ahead of his qualifying position. The first race was won by Ducati's Gregorio Lavilla and the second by Honda's Ryuichi Kiyonari.


Rizla Suzuki will test at Mallory Park in Leicestershire this Friday, May 11th, before returning to race action at the fifth round of the Championship at Snetterton in Norfolk on Sunday, May 20th.


Cal:

"I am absolutely delighted with my first race result of seventh. I was in touch with the leaders for most of the race and that shows a significant step forward in performance – I now know I can compete with the front runners, something which I hadn't been able to do prior to this weekend.


"In the second race we made a few changes to the bike that didn't help and then I was forced to retire while comfortable in eighth place. Overall I feel as though I have moved up a level and will be taking that confidence with me into the rest of the season."


Stalker:

"It has been a hard weekend. Right from the first session we were battling to find a competitive setting on my Rizla Suzuki that would allow me to compete. In the opening race I lost the front at the chicane and that was game over. In race two I ran on at the chicane and when I rejoined it was a lonely race to ninth.


"The positives are that the GSX-R1000 is good and has all the ingredients to challenge for the podium – Cal and I have proved that. The test at Mallory Park later this week will help us and I think we can go to the next round confident we can improve on our results."


Simon Buckmaster, Team Manager:

"Cal showed his maturity as a rider and a racer to score what is easily his best and most competitive result on a Superbike. He was unlucky in the second race when he was forced to retire, but he can hold his head high given this was only his fourth BSB meeting.


"Chris has not performed as we would have anticipated this weekend. Right from the start he struggled to find a comfortable setting on his bike and it showed in the races. In typical fashion though, he dug in and was unlucky with a crash in the opener before taking a top 10 finish in the second race. He will be very busy at our test at Mallory Park on Friday as he needs to find a better base setting to take to the next round."


Race One Result: 1: Gregorio Lavilla (Ducati) 27:29.245, 2: Leon Haslam (Ducati) +0.219, 3: Ryuichi Kiyonari (Honda) +0.504, 4: Jonathan Rea (Honda) +1.843, 5: Tom Sykes (Honda) +2.113, 6: Shane Byrne (Honda) +2.505, 7: CAL CRUTCHLOW (RIZLA SUZUKI) +9.310, 8: Leon Camier (Honda) +11.524, 9: Karl Harris (Honda) +19.092, 10: Tommy Hill (Yamaha) +26.176, DNF: CHRIS WALKER (RIZLA SUZUKI).


Race Two Result: 1: Kiyonari 27:33.097, 2: Haslam +2.177, 3: Byrne +3.563, 4: Lavilla +4.041, 5: Rea +7.403, 6: Sykes +7.664, 7: Hill +7.786, 8: Camier +13.860, 9: CHRIS WALKER (RIZLA SUZUKI) +31.363, 10: Dean Thomas (Suzuki) +32.393, DNF CAL CRUTCHLOW (RIZLA SUZUKI).