Kiyonari conquers Knockhill
Author: Honda Racing Press Release
Posted on: Saturday, Mar 12 2005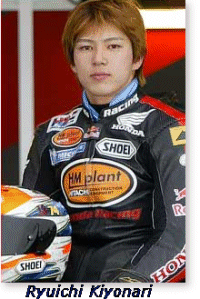 The two teams had different objectives for the test, with HM Plant Honda Racing aiming to work with tyre providers Michelin to gather more valuable data and find improved settings for cold, dry weather conditions.

While lap times were not the issue, they were a good indication of the progress that the team made with both riders putting in times that were significantly inside the existing lap record of 50.05 set by the late Steve Hislop in 2002. Leicestershire rider Rutter put in the fastest times on day one and two, but it was his team-mate who put in the final fastest time of the test on the third day.

HM Plant Honda Racing as a team also managed to gather further valuable information on the CBR1000RR Fireblades that can be put to use during the forthcoming season.

Ryuichi Kiyonari said: "I was happy to return to this circuit in dry conditions after how wet it was on my first visit here last summer. This has enabled me to get some invaluable testing time at one of the championship tracks and helped us to continue our preparations for the start of the season. I was delighted with the set-up of my HM Plant Honda, which allowed me to record some impressive lap times."

Team-mate Rutter said: "After testing in Spain earlier in the year it was good to return home to more familiar surroundings. Fortunately, the rain stayed away at Knockhill and we were able to gather a lot of valuable data to use during the course of the season. We've had an incident-free pre-season test schedule to date and this has helped us all to gain confidence for the start of the 2005 championship."

Jonathan Rea was simply happy to take advantage of the extra track time ahead of his British Superbike Championship debut aboard the Red Bull Honda CBR1000RR Fireblade. The testing time has proved invaluable for the 18-year-old following his recovery from leg injuries that brought his 2004 season to a premature end.

The Ulster teenager said: "This test has been a bit of a bonus for me really on top of the work that we've done in Spain. I totally appreciate all of the hard work that the Red Bull Honda team has put into the last three days and as a result I feel much stronger and more confident than I would have been otherwise."