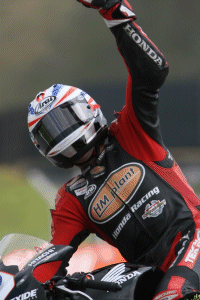 Steve is also currently holding the top newcomer position in the Superstock class after completing two laps of the 37.73 mile public road course on the Superstock machine in 19m 07.18s – 118.402mph. He rounded off the evening's practise with a lap on the Supersport 600cc bike as second fastest newcomer with a lap of 19m 33.35s – 115.761mph.

"After Wednesday's practise was cancelled because of the weather we were keeping fingers crossed for a dry run on Thursday and the weather was perfect," said Steve.

"I started with a two-lap run out on the Superstock R1 but was not completely happy with the set-up, finding it difficult to get comfortable with a setting so was surprised to find I had put in a 118mph lap as I thought I was cruising round for much of the time. I then jumped on my Superbike and put in another two laps. It's my favourite machine as it has much more power and it's the bike I am used to.

"I didn't push too hard but was trying to concentrate on the section between Ginger Hall and Ramsey where the surface is very rough. The bike felt really smooth and I was much more comfortable as it was behaving much better, making it easier to complete a good, flowing lap.

"I rounded off the evening's practise with a lap on the Supersport bike trying out a slightly different chassis setting. It did feel better but I am still not 100% happy with it.

"I am not too worried about lapping faster at the moment, I need to be a little more accurate in places and be able to hold the throttle wide open through the roughest sections of the course.

"On my return to the pits everyone was very excited and I was told I had managed to put in the fastest ever lap time for a newcomer in the Superbike class."


Lincolnshire Company, Optoma Loans are proud to announce that they are the official sponsors of Steve Plater at this year's centenary Isle of Man TT.

Andrew Seymour, CEO and Chief Executive of Optoma Loans said: "I am genuinely proud to be associated with such a prestigious, successful and skilled rider as Steve. Optoma Loans is a brand devoted to backing the best teams in the sport and although it is Steve's first time round the TT course, you just never know what he might pull out the bag. Everyone at Optoma Loans wishes him the best of luck."

Alistair Flanagan of Optoma Loans Yamaha and team owner of AIM Yamaha Racing said: "I am really happy to have Andrew Seymour and Optoma Loans on board, we are looking forward to developing his aspirations and business with him. We are deemed the number one road racing team in the sport and we are having a very successful year so far, we hope our success helps to expose Optoma Loans to new customers.

Steve Plater said: "I am thrilled to have Optoma Loans supporting the team at the TT. The company is based in my home county of Lincolnshire and they have supported me personally so far this year already. I am pleased with how the TT practices have been going, and to be the fastest newcomer is a bonus, let's hope the weather stays good. We have tried a few different settings on all three machines to enable me to feel a little more comfortable on the roughest sections of the course and will implement those next time out."

Subject to qualification Steve will round off his first TT appearance with the high profile Senior TT on Friday over six laps distance with a scheduled start of 1045am..